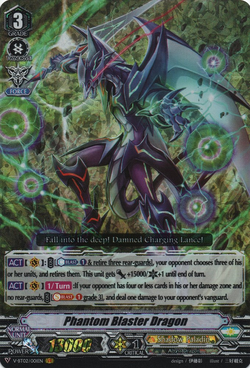 Abyss Dragon (アビスドラゴン Abisu Doragon) are a race found in the Gold Paladin, Murakumo, Nubatama, Pale Moon and Shadow Paladin clans. Abyss dragons are dragons with power over darkness.
The majority of abyss dragons are present in Shadow Paladin, Murakumo, and Nubatama, and many of those clans' stronger units are abyss dragons. In Shadow Paladin, many abyss dragons, including its founder Phantom Blaster Dragon, were originally cosmo dragons that fell and were tainted by darkness for various reasons. In Murakumo and Nubatama, abyss dragons are members of the various ninja clans that make up Murakumo and Nubatama, and they have served the Empire for generations. A few abyss dragons exist in Pale Moon as performers, tamed by Pale Moon's dragon tamers.
Gold Paladin has only two Abyss Dragons, Spectral Duke Dragon and Conviction Dragon, Chromejailer Dragon. Both were part of the clan during the time the Royal Paladins and Shadow Paladins were merged as the Gold Paladins, and after the members of Shadow Paladin separated from Gold Paladin to rebuild their own clan, no more Abyss Dragons were printed in Gold Paladin.
List of Abyss Dragons
Grade 0
| Card Name | Clan | Type |
| --- | --- | --- |
| Stealth Dragon, Hiden Scroll | Murakumo | Trigger unit (Stand) |
| Stealth Dragon, Hitodama Handler | Murakumo | |
| Stealth Dragon, Magatsu Wind | Murakumo | |
| Stealth Dragon, Burai | Nubatama | |
| Stealth Dragon, Kokusha | Nubatama | Trigger unit (Critical) |
| Stealth Dragon, Kurogane | Nubatama | Trigger unit (Critical) |
| Stealth Dragon, Kurogane (V Series) | Nubatama | Trigger unit (Critical) |
| Stealth Dragon, Noroi | Nubatama | Trigger unit (Critical) |
| Stealth Dragon, Madoi | Nubatama | |
| Stealth Dragon, Magatsu Wind (V Series) | Nubatama | |
| Vanishment Dracokid | Pale Moon | Trigger unit (Heal) |
| Deadcrash Dragon | Shadow Paladin | Trigger unit (Critical) |
| Revenger, Air Raid Dragon | Shadow Paladin | Trigger unit (Critical) |
Grade 1
| Card Name | Clan | Type |
| --- | --- | --- |
| Stealth Dragon, Amatsu Snipe | Murakumo | |
| Stealth Dragon, Magatsu Breath | Murakumo | |
| Stealth Dragon, Mangy Shooter | Murakumo | |
| Stealth Dragon, Onibayashi | Murakumo | |
| Stealth Dragon, Senryou Raid | Murakumo | |
| Stealth Dragon, Soukoku Zapper | Murakumo | |
| Stealth Dragon, Turbulent Edge (V Series) | Murakumo | |
| Stealth Dragon, Chigiregumo | Nubatama | |
| Stealth Dragon, Dreadmaster (V Series) | Nubatama | |
| Stealth Dragon, Gouka | Nubatama | |
| Stealth Dragon, Kodachifubuki | Nubatama | |
| Stealth Dragon, Magatsu Breath (V Series) | Nubatama | |
| Stealth Dragon, Seizui | Nubatama | |
| Stealth Dragon, Tengai | Nubatama | |
| Stealth Dragon, Tenrei | Nubatama | |
| Stealth Dragon, Utsuroi | Nubatama | Sentinel (Perfect Guard) |
| Beginner Juggler Dracokid | Pale Moon | |
| Blue Espada Dragon | Shadow Paladin | |
| Darkquartz Dragon | Shadow Paladin | |
| Evil Refuser Dragon | Shadow Paladin | Sentinel (Quintet Wall) |
| Fear Sword Dragon | Shadow Paladin | |
| Revenger, Weitgore Dragon | Shadow Paladin | |
Grade 2
| Card Name | Clan | Type |
| --- | --- | --- |
| Stealth Dragon, Dual Weapon | Murakumo | |
| Stealth Dragon, Fudoublast | Murakumo | |
| Stealth Dragon, Katonslayer | Murakumo | |
| Stealth Dragon, Magai Mandala | Murakumo | |
| Stealth Dragon, Magatsu Gale | Murakumo | |
| Stealth Dragon, Oboro Keeper | Murakumo | |
| Stealth Dragon, Royale Nova | Murakumo | |
| Stealth Dragon, Runestar | Murakumo | |
| Stealth Dragon, Yashabayashi | Murakumo | |
| Shura Stealth Dragon, Daranicongo | Nubatama | |
| Shura Stealth Dragon, Murasamecongo | Nubatama | |
| Shura Stealth Dragon, Kabukicongo (V Series) | Nubatama | |
| Stealth Dragon, Dam Breach | Nubatama | |
| Stealth Dragon, Fuurai | Nubatama | |
| Stealth Dragon, Genkai | Nubatama | |
| Stealth Dragon, Hashiribi | Nubatama | |
| Stealth Dragon, Houjin | Nubatama | |
| Stealth Dragon, Kokujyo | Nubatama | |
| Stealth Dragon, Magatsu Gale (V Series) | Nubatama | |
| Stealth Dragon, Nibikatabira | Nubatama | |
| Stealth Dragon, Shibari Kusari | Nubatama | |
| Stealth Dragon, Togajuji | Nubatama | |
| Stealth Dragon, Ungai | Nubatama | |
| Silver Thorn, Acute Dragon | Pale Moon | |
| Silver Thorn, Rising Dragon | Pale Moon | |
| Darkpride Dragon | Shadow Paladin | |
| Gang Assault Dragon | Shadow Paladin | |
| Morion Spear Dragon | Shadow Paladin | |
| Revenger, Detonate Heat Dragon | Shadow Paladin | |
| Slaptail Dragon | Shadow Paladin | |
Grade 3
| Card Name | Clan | Type |
| --- | --- | --- |
| Conviction Dragon, Chromejailer Dragon | Gold Paladin | |
| Spectral Duke Dragon | Gold Paladin | |
| Covert Demonic Dragon, Aragoto Spark | Murakumo | |
| Covert Demonic Dragon, Danzetsu Anarch | Murakumo | |
| Covert Demonic Dragon, Hyakki Vogue "Яeverse" | Murakumo | |
| Covert Demonic Dragon, Hyakki Zora | Murakumo | |
| Covert Demonic Dragon, Kagura Bloome | Murakumo | |
| Covert Demonic Dragon, Kasumi Rogue | Murakumo | |
| Covert Demonic Dragon, Magatsu Storm | Murakumo | |
| Covert Demonic Dragon, Magatsu Typhoon | Murakumo | |
| Covert Demonic Dragon, Mandala Lord | Murakumo | |
| Covert Demonic Dragon, Mandala Lord (V Series) | Murakumo | |
| Dueling Dragon, ZANBAKU | Murakumo | |
| Dueling Dragon, ZANBAKU (V Series) | Murakumo | |
| Dueling Dragon King, ZANGEKI | Murakumo | |
| Dueling Dragon King, ZANGEKI (V Series) | Murakumo | |
| Stealth Dragon, Voidgelga | Murakumo | |
| Blazing Demonic Stealth Dragon, Shiranui "Zanki" | Nubatama | |
| Demon Stealth Dragon, Jaken Myouou | Nubatama | |
| Demon Stealth Dragon, Shiranui "Oboro" | Nubatama | |
| Shura Stealth Dragon, Hokagecongo | Nubatama | |
| Shura Stealth Dragon, Kabukicongo | Nubatama | |
| Shura Stealth Dragon, Kujikiricongo | Nubatama | |
| Shura Stealth Dragon, Kujikiricongo (V Series) | Nubatama | |
| Covert Demonic Dragon, Magatsu Storm (V Series) | Nubatama | |
| Shura Stealth Dragon, Mandoracongo | Nubatama | |
| Shura Stealth Dragon, Yozakuracongo | Nubatama | |
| Stealth Dragon, Kegareshinmyo | Nubatama | |
| Stealth Dragon, Shiranui | Nubatama | |
| Stealth Dragon, Voidmaster (V Series) | Nubatama | |
| Burstlaugh Dragon | Pale Moon | |
| Gun Salute Dragon, End of Stage | Pale Moon | |
| Gun Salute Dragon, End of Stage (V Series) | Pale Moon | |
| Silver Thorn, Masher Dragon | Pale Moon | |
| Crest-vicious Dragon | Shadow Paladin | |
| Deathspray Dragon | Shadow Paladin | |
| Dark Metal Dragon | Shadow Paladin | |
| Gust Blaster Dragon | Shadow Paladin | |
| Gust Blaster Dragon (V Series) | Shadow Paladin | |
| Phantom Blaster Dragon | Shadow Paladin | |
| Phantom Blaster Dragon (Break Ride) | Shadow Paladin | |
| Phantom Blaster Overlord | Shadow Paladin | |
| Revenger, Deathmaster Dragon | Shadow Paladin | |
| Revenger, Desperate Dragon | Shadow Paladin | |
| Revenger, Dragruler Phantom | Shadow Paladin | |
| Revenger, Phantom Blaster "Abyss" | Shadow Paladin | |
| Revenger, Raging Form Dragon | Shadow Paladin | |
| Revenger, Slay Hex Dragon | Shadow Paladin | |
| Shadow Blaze Dragon | Shadow Paladin | |
| Supremacy Dragon, Claret Sword Dragon | Shadow Paladin | |
| Supremacy Dragon, Claret Sword Dragon Revolt | Shadow Paladin | |
| Venomous Breath Dragon | Shadow Paladin | |
Grade 4
| Card Name | Clan | Type |
| --- | --- | --- |
| Ambush Demon Stealth Dragon, Homura Raider | Murakumo | G unit (Stride) |
| Ambush Demon Stealth Dragon, Hyakki Vogue Nayuta | Murakumo | G unit (Stride) |
| Ambush Demon Stealth Dragon, Hyakki Zora Asougi | Murakumo | G unit (Stride) |
| Ambush Demon Stealth Dragon, Mandala Ryuou | Murakumo | G unit (Stride) |
| Ambush Demon Stealth Dragon, Onibibu Radar | Murakumo | G unit (Stride) |
| Ambush Demon Stealth Dragon, Shibarakku Buster | Murakumo | G unit (Stride) |
| Enma Stealth Dragon, Kingoku Tenbu | Nubatama | G unit (Stride) |
| Enma Stealth Dragon, Maguntenbu | Nubatama | G unit (Stride) |
| Evil-eye Hades Emperor, Shiranui "Mukuro" | Nubatama | G unit (Stride) |
| Evil-eye Vidya Emperor, Shiranui "Rinne" | Nubatama | G unit (Stride) |
| Rikudo Stealth Dragon, Gandokurakan | Nubatama | G unit (G guardian) |
| Rikudo Stealth Dragon, Gedatsurakan | Nubatama | G unit (Stride) |
| Rikudo Stealth Dragon, Gehourakan | Nubatama | G unit (G guardian) |
| Rikudo Stealth Dragon, Gounrakan | Nubatama | G unit (Stride) |
| Rikudo Stealth Dragon, Jorurirakan | Nubatama | G unit (Stride) |
| Rikudo Stealth Dragon, Rokushikirakan | Nubatama | G unit (Stride) |
| Rikudo Stealth Dragon, Zaramerakan | Nubatama | G unit (Stride) |
| Steel Blade Shura Stealth Dragon, Hayakujirakan | Nubatama | G unit (Stride) |
| Jester Demonic Dragon, Lunatec Dragon | Pale Moon | G unit (Stride) |
| Jester Demonic Dragon, Wandering Dragon | Pale Moon | G unit (G guardian) |
| Dark Dragon, Animus Pile Dragon | Shadow Paladin | G unit (Stride) |
| Dark Dragon, Carnivore Dragon | Shadow Paladin | G unit (Stride) |
| Dark Dragon, Darkveil Dragon | Shadow Paladin | G unit (G guardian) |
| Dark Dragon, Distress Dragon | Shadow Paladin | G unit (Stride) |
| Dark Dragon, Phantom Blaster "Diablo" | Shadow Paladin | G unit (Stride) |
| Dark Dragon, Plotmaker Dragon | Shadow Paladin | G unit (G guardian) |
| Dark Dragon, Spectral Blaster "Diablo" | Shadow Paladin | G unit (Stride) |
| Dragabyss, Luard | Shadow Paladin | G unit (Stride) |
| Dragstrider, Luard | Shadow Paladin | G unit (Stride) |
| Supremacy Black Dragon, Aurageyser Doomed | Shadow Paladin | G unit (Stride) |
| Supremacy Black Dragon, Aurageyser Dragon | Shadow Paladin | G unit (Stride) |
| Supremacy True Dragon, Claret Sword Helheim | Shadow Paladin | G unit (Stride) |
| True Revenger, Dragruler Revenant | Shadow Paladin | G unit (Stride) |
| True Revenger, Raging Rapt Dragon | Shadow Paladin | G unit (Stride) |
List of Support Cards
Grade 2
Grade 4
Grade 4