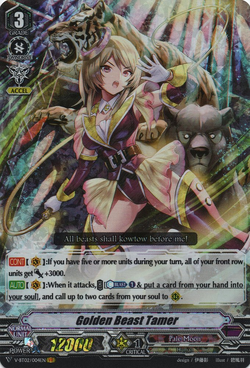 The Beast Tamers (ビーストテイマー / 獣使い, Bīsuto Teimā) are a set of primarily Elf cards that include "Beast Tamer" in its card name exclusive to the Pale Moon clan, introduced in Booster Set 3: Demonic Lord Invasion.
A few members are also a part of the Silver Thorn sub-clan, however these Silver Thorn members are not part of the "Beast Tamer" sub-clan in the Japanese version due to having a different Japanese name.
Playstyle
As this sub-clan has been mostly used as generic support for the Pale Moon clan, they do not have a specific playstyle themselves.
In the V Series, they utilize the Accel Imaginary Gift to increase their attack range and power without the need to call boosters.
Known/Notable Cardfighters
Design
They are designed after real world animal tamers, and wield whips due to their profession, but also function as weapons. Many also have their beast companions in their artwork, and can range from normal animals such as tigers or bears, to mythical beasts such as chimeras. They also are named after different minerals and gemstones, such as gold or obsidian, and even some plants, such as amaranth or endive. Coincidentally, the beast partners of the Beast Tamers have "Barking" in their card names.
Although there are "Dragon Tamers". they are not part of the Beast Tamers, nor do they have abilities relating to "Dragon Tamers".
Sets Containing "Beast Tamer" Cards
Booster Sets
Decks
Extra Collections
List of "Beast Tamer" Cards
Grade 0
Grade 1
Grade 2
Grade 3
List of Support and Related Cards
Grade 2
Grade 3
---
Community content is available under
CC-BY-SA
unless otherwise noted.