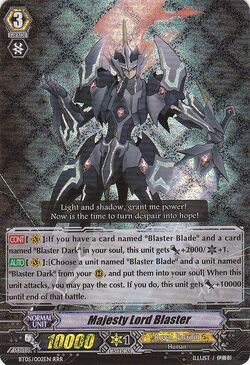 "Blaster" (ブラスター Burasutā) is a series of cards that include "Blaster" in their card names found in the different clans. The first card was introduced in Trial Deck 1: Blaster Blade, and later received its first support in Booster Set 5: Awakening of Twin Blades.
Playstyle
The playstyle for Blasters depends on the clan they belong to, with retiring being a part of its most notable members' abilities.
Background
The Blaster Armaments are magical weapons developed by Blasteed, with Larousse, a Royal Paladin, as the first wielder, who wielded the Blaster Javelin. However, due to his hunger of power and envy for Ahmes, the weapon corrupted him and thus, Larousse was removed from the Royal Paladin.
The next to be given a Blaster Weapon (from the corrupted Thing Saver Dragon), was Junos, with Laura and Grawl subsequently being given the Blaster Rapier and Blaster Axe respectively. However, as the Blaster weapon corrupted Larousse, so did these three. Although Junos was able to control himself from the power of the weapon, he was defeated in battle and passed his weapon, the Blaster Blade, to Ahmes, who was able to harness its full potential, sparking Junos' envy.
Because of his hatred towards Ahmes, Junos was taken advantage by Phantom Blaster Dragon, who gave him a weapon resembling the Blaster Blade. He took the mantle of Blaster Dark, and formed the Shadow Paladin.
Despite Junos' hatred towards Ahmes, they were able to reconcile through a duel during the war, with Junos giving his sword his Ahmes for the latter to become Majesty Lord Blaster and defeat Phantom Blaster Dragon.
After being released from the armament, Larousse returned to the royal guards by Alfred's grace. To repay his sins using his experience, he formed a research team with a weapons dealer and a sage, and the trio work hard to develop the "𝛎 Blaster" series, which are new magical weapons without the parts that corrupt the users' minds.
List of "Blaster" Cards
Grade 0
Grade 2
Grade 2
Grade 3
Grade 1
Grade 2
Grade 3
Grade 4
Grade 1
Grade 2
Grade 3
Grade 4
List of Support Cards
Gold Paladin
Grade 0
Grade 1
Grade 2
Grade 3
Link Joker
Grade 1
Grade 2
Royal Paladin
Grade 0
Grade 1
Grade 2
Grade 3
Grade 4
Shadow Paladin
Grade 0
Grade 1
Grade 2
---
Community content is available under
CC-BY-SA
unless otherwise noted.