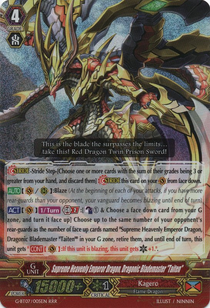 "Blaze" (竜炎 Bureizu) is a keyword exclusive to the Kagero clan, and introduced in G Booster Set 7: Glorious Bravery of Radiant Sword.
How it Works
A "Blaze" ability only activates at the beginning of each of your attacks, if you have more rear-guards than your opponent does at that point. When it does, all of your vanguards become blazing state, and they remain in blazing state until end of turn.
Effect Use Timing
"When (unit) becomes blazing..." refers to when the specified unit changes from not being in blazing state to being in blazing state in order to be activated.
"If (unit) is blazing..." refers to whether the specified unit is in blazing state at that moment after being activated.
List of Cards
Grade 0
Grade 1
Grade 2
Grade 3
Grade 4
List of Support Cards
Grade 0
Grade 1
Grade 2
Grade 3
Trivia
The kanji "竜炎" (Ryūen) can be translated as either "Dragon Flame" or "Dragon's Flame".
In the anime, the vanguard that's in blazing state is seen different ways.
Community content is available under
CC-BY-SA
unless otherwise noted.