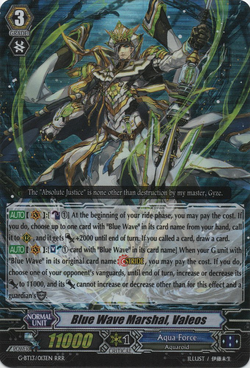 "Blue Wave" (蒼波 Sōha) is a set of cards that include "Blue Wave" in their card names exclusive to the Aqua Force clan, introduced in Booster Set 13: Catastrophic Outbreak.
Playstyle
They have a heavy focus on restanding units after meeting certain order of battles; both rear-guards, and vanguard. Their leader, Valeos, also has a minor focus in restricting the opposing vanguard's power levels. This minor focus continues in Template:VLink2, albeit without a "Blue Wave" boss.
List of "Blue Wave" cards
Grade 0
Grade 1
Grade 2
Grade 3
Grade 4
Community content is available under
CC-BY-SA
unless otherwise noted.