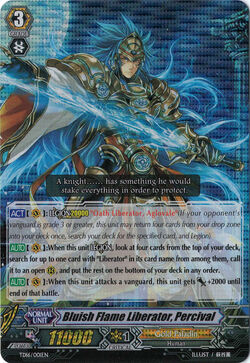 "Bluish Flame" (青き炎 Aokihonō) is a series of cards that include "Bluish Flame" in its card name exclusive to the Gold Paladin clan within the Liberator archetype. The first card was introduced in the Trial Deck 16: Divine Judgment of the Bluish Flames, and received more support in the Movie Booster 1: Neon Messiah. Their playstyle is the combination between of Gold Paladin and Shadow Paladin as they retire, and then call for more.
Background
Bluish Flame Armaments
The "Bluish Flame Armaments" have been formally implemented in a section of the special troop "Liberators", of "Gold Paladin" the Second Regular Army of the holy nation. They are developed from the unique armaments that are lost technologies of ancient times, revived with the usage of modern technologies, and the methods of using the armament have been established. Though the Bluish Flame Armaments could realize and unleash their users' inner mana in the form of bluish flames, only those with outstanding physical abilities and mana can use the armaments. Currently, only a section of "Liberators" has formally implemented the Bluish Flame Armaments, while members of other troops with the corresponding aptitude are supplied with the Bluish Flame Armaments for experimental usage.
List of "Bluish Flame" Cards
Grade 3
Grade 4
List of Support Cards
Grade 0
Grade 2
Grade 3
---
Community content is available under
CC-BY-SA
unless otherwise noted.