Cardfight!! Vanguard is the first main season that started the anime series as a whole. It was originally announced on July 2, 2010 during Bushiroad Card Game LIVE2020 together with the Trading Card Game it is based on, and a manga series with different story.
Episodes can be found on the official YouTube channel for the English dub (region locked to some countries), and the official Japanese channel for the original version.
Plot Summary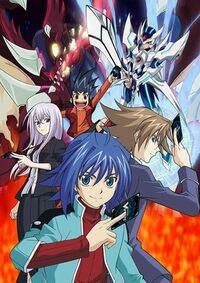 The protagonist of this story, Aichi Sendou, is a timid boy in his third year of middle school. He had been living his life looking backward rather than forward, trying not to stand out. However, he had one thing that kept him going, Blaster Blade, a card from a card game that was given to him when he was little. That card is the reason why he begins to engage in Card Fights, something that changes his life drastically.
The name of the card game is "Vanguard." The game takes place in a different planet called "Planet Cray|Cray," and due to a never before seen play system, it becomes popular throughout the world.
Aichi, immediately attracted by Vanguard, meets friends such as Misaki Tokura and Kamui Katsuragi, along with other rivals. Through friendly rivalry with them, Aichi begins to enjoy a fulfilling life. Aichi, however, has a goal: to once again battle with a Vanguard Fighter by the name of Toshiki Kai. Kai is an aloof and cold-hearted high school student who has outstanding abilities in the world of Vanguard. He is also the reason why Aichi started playing the game. For him, Toshiki is the person who saved him from his boring life and introduced him to Vanguard. In order to get better at Vanguard, Aichi puts his soul into it every day. He wishes that someday, he'll be able to battle Toshiki and have him recognize his worth.
He soon learns about a power called PSYqualia, and another boy called Ren Suzugamori, who also has the same power...
Main Characters
Themes
Japanese opening theme 1: Vanguard
Japanese opening theme 2: Believe in my Existence
Japanese ending theme 1: Diamond Stars☆
Performer: Natsuko Aso
Episodes: 01-15
Japanese ending theme 2: Smash Up!!
Performer: Shiina Hekiru
Episodes: 16-25
Japanese ending theme 3: DREAM SHOOTER
Performer: Sea☆A
Episodes: 26-38
Japanese ending theme 4: Starting Again
Performer: Sayaka Sasaki
Episodes: 39-52
Japanese ending theme 5: Nakimushi TREASURES
Performer: Saori Kodama Feat. Milky Holmes
Episodes: 53-65
English opening theme 1: Vanguard
English ending theme 1: DREAM SHOOTER
Episode Listing
Episode Guide - Season 1
Season 1

Screenshot

Episode Number

Japanese Title

English Title

Japanese Air Date

Episode 1
運命の先導者!

(Unmei no Vangādo!)

Vanguard of Destiny!
January 8th, 2011
Episode 2
勝利へのライド

(Shōri e no Raido)

Ride to Victory!
January 15th, 2011
Episode 3
ようこそ!カードキャピタル

(Yōkoso! Kādo Kyapitaru e)

Welcome to Card Capital!
January 22nd, 2011
Episode 4
猛攻!ツインドライブ

(Mōkō! Tsuin Doraibu)

Assault! Twin Drive!
January 29th, 2011
Episode 5
旋風!小学生ファイターカム

(Senpū! Shōgakusei Faitā Kamui)

Whirlwind! Kamui, the Grade-School Fighter!
February 5th, 2011
Episode 6
謎のカードショップ

(Nazo no Kādo Shoppu)

The Mysterious Card Shop!
February 12th, 2011
Episode 7
戦慄のソウルブラスト

(Senritsu no Souruburasuto)

The Fearsome Soulblast!
February 19th, 2011
Episode 8
騎士王、出陣!

(Kishi-ō, Shutsujin! )

The King of Knights Enters The Fray!
February 26th, 2011
Episode 9
ショップ大会開幕

(Shoppu Taikai Kaimaku)

The Shop Tournament Begins!
March 5th, 2011
Episode 10
忍者ファイター、参上

(Ninja Faitā, Sanjō)

Enter the Ninja Fighter!
March 12th, 2011
Episode 11
忍者ファイター、退場

(Ninja Faitā, Taijō)

Ninja Fighter Withdraws!
March 19th, 2011
Episode 12
アイチVSカムイ

(Aichi VS Kamui)

Aichi vs. Kamui
March 26th, 2011
Episode 13
決着!ショップ大会

(Ketchaku! Shoppu Taikai)

Shop Tournament Winner Crowned!
April 2nd,2011
Episode 14
不死の恐怖!グランブルーデッキ (Fushi no Kyōfu! Guranburū dekki)
The Fearsome Undead! The Granblue Deck!
April 9th, 2011
Episode 15
ハラハラ!?エミの初ファイト

(Harahara!? Emi no Hatsu Faito)

Thrilling! Emi's First Fight!
April 16th, 2011
Episode 16
チームQ4、地区大会へ

(Chīmu Q4, Chiku Taikai e)

Team Q4 Heads for the Regional Tournament!
April 30th, 2011
Episode 17
新たなる仲間たち

(Aratanaru Nakama-tachi)

New Allies
May 7th, 2011
Episode 18
白熱のトーナメント!

(Hakunetsu no Tōnamento!)

White-Hot Tournament!
May 14th, 2011
Episode 19
決戦! ノヴァグラップラー!(Kessen! Nova Gurappurā! )
Showdown! Nova Grappler!
May 21st, 2011
Episode 20

秘められたメッセージ

(Himerareta Messēji)

Hidden Message
May 28th, 2011
Episode 21
決勝での再戦!!

(Kesshō de no Saisen!!)

Rematch in the Final Match!
June 4th, 2011
Episode 22
舞い降りた聖龍

(Maiorita Seiryū)

The Holy Dragon Descends
June 11th, 2011
Episode 23
運命の出会い

(Unmei no Deai)

Fateful Encounter
June 18th, 2011
Episode 24
消せない記憶

(Kesenai Kioku)

The Indelible Memory
June 25th, 2011
Episode 25
記憶の先に

(Kioku no Saki ni)

Beyond the Memories
July 2nd, 2011
Episode 26
波乱の幕開け!全国大会!

(Haran no Makiake! Zenkoku Taikai!)

A Stormy Beginning! The National Championship!
July 9th, 2011
Episode 27
ジュラシックアーミー

(Jurashikku Āmī)

Jurassic Army
July 16th, 2011
Episode 28
猛進!たちかぜデッキ

(Mōshin! Tachikaze Dekki!)

Aggressive Movement! Tachikaze Deck!!
July 23rd, 2011
Episode 29
月、満ちるとき

(Tsuki, Michiru Toki)

When the Moon is Full
July 30th, 2011
Episode 30
最強チーム、AL4!

(Saikyō Chīmu, AL4!)

The Strongest Team, Asteroid!
August 6th, 2011
Episode 31
美しきアサシン

(Utsukushiki Asashin)

Beautiful Assassin
August 13th, 2011
Episode 32
魔界の将軍

(Makai no Shōgun)

Demon World General
August 20th, 2011
Episode 33
漆黒のブラスター

(Shikkoku no Burasutā)

Blaster of Darkness
August 27th, 2011
Episode 34
夏だ!合宿だ!ヴァンガードだ!

(Natsu da! Gasshuku da! Vangādo da!)

It's Summer! It's Camp! It's Vanguard!
September 3rd, 2011
Episode 35
合宿の成果

(Gasshuku no Seika)

Results of the Training Camp
September 10th, 2011
Episode 36
裏ファイトの王

(Ura Faito no Ō)

The King of Underground Fights
September 17th, 2011
Episode 37
帰ってきた忍者マスター

(Kaette Kita Minja Masutā)

The Return of the Ninja Master
September 24th, 2011
Episode 38
三和の実力

(Miwa no Jitsuryoku)

Miwa's Ability
October 1st, 2011
Episode 39
地区大会、再び

(Chiku Taikai, Futatabi)

Return to Regionals
October 8th, 2011
Episode 40
危険な匂い

(Kiken na nioi)

Dangerous Scent
October 15th, 2011
Episode 41
復讐のキョウ

(Fukushū no kyō)

Kyou's Revenge
October 22nd, 2011
Episode 42
PSYクオリア

(Saikuoria)

Psyqualia
October 29th, 2011
Episode 43
黒い先導者

(Kuroi sendō-sha)

Black Vanguard
November 5th, 2011
Episode 44
予期せぬ来客

(Yoki senu raikyaku)

Unexpected Visitor
November 12th, 2011
Episode 45
シャドウパラディン

(Shadou Paradin)

Shadow Paladin
November 19th, 2011
Episode 46
絡みつく糸

(Karamitsuku ito)

The Coiling Thread
November 26th, 2011
Episode 47
もう一つのフーファイター

(Mō Hitotsu no fū faitā)

Another Asteroid
December 3rd, 2011
Episode 48
孤独なファイト

(Kodoku na faito)

Lonely Fight
December 10th, 2011
Episode 49
櫂の戦い

(Kai no tatakai)

Kai's Battle
December 17th, 2011
Episode 50
戦いの果てに…

(Tatakai no hate ni...)

At the end of the Battle...
December 24th, 2011
Episode 51
黄金の輝き

(Ōgon no kagayaki)

Golden Glow
December 31st, 2011
Episode 52
洋上の歌姫

(Yōjō no utahime)

Songstress of the Sea
December 31st, 2011
Episode 53
開戦!決勝トーナメント

(Kaisen! Kesshō Tōnamento)

The Battle Begins! Tournament Finals
January 7th, 2012
Episode 54
剣闘士(Guradiētā )
Gladiator
January 14th, 2012
Episode 55
カエサルの女帝

(Kaesaru no Jotei)

Caesar's Empress
January 21st, 2012
Episode 56
皇帝と呼ばれる男

(Kōtei to Yobareru Otoko)

The Man They Call "The Emperor"!
January 28th, 2012
Episode 57
宿命の対決

(Shukumei no Taiketsu)

Fateful Showdown!
February 4th, 2012
Episode 58
激突!オーバーロード

Gekitotsu! Ōbārōdo()

Clash! Overlord
February 11th, 2012
Episode 59
頂点の座を賭けて

(Chōten no Za o Kakete)

Fighting for the Top Spot
February 18th, 2012
Episode 60
将軍の壁

(Shōgun no Kabe)

Wall of the General
February 25th, 2012
Episode 61
フーファイターへの想い

(Fū Faitā e no Omoi)

Feelings Towards Asteroid
March 3rd, 2012
Episode 62
ファイトの支配者

(Faito no Shihaisha)

Lord of the Fight
March 10th, 2012
Episode 63
並び立つ能力者

(Narabitatsu Nōryokusha)

Two Powers, Side-by-Side
March 17th, 2012
Episode 64
PSYクオリアの真実

(Saikuoria no Shinjitsu)

The Truth of Psyqualia
March 24th, 2012
Episode 65
目覚めし双剣

(Mezameshi Sōken)

Awakening of the Twin Blades
March 31st, 2012
Trivia
This anime series has officialy turned 10 years old, on January 8th 2021.
Community content is available under
CC-BY-SA
unless otherwise noted.