First Match! Miyaji Academy vs. Hitsue High School is the 6th episode of Cardfight!! Vanguard: Season 3 in the Cardfight!! Vanguard Anime.
Plot
The Vanguard club can only be officially recognized if they can defeat a team chosen by the student council's president. Their opponents are the team from Hitsue High, which includes Toshiki Kai, Katsumi Morikawa, Yuta Izaki and Taishi Miwa. Mark Whiting also appears as the Hitsue High Cardfight Club's faculty advisor. Shingo Komoi is overjoyed to meet a fighter of Kai's reputation.
In the first fight, Kai fights Naoki Ishida in a battle of Narukami vs Narukami. Naoki is wrong-footed due to never having seen a Motion Figure System before, but quickly becomes fired up to be taking on a opponent of Kai's level. Naoki takes an early lead thanks to a critical trigger, but Kai is unfazed. Both players ride Eradicator, Vowing Sword Dragon as the match progresses. Naoki break rides Eradicator, Gauntlet Buster Dragon and uses its skills repeatedly, forcing Kai into an all-out defence. Kai then break rides Eradicator, Dragonic Descendant. Naoki guards Descendant's attack, but Kai uses its limit break to stand it and give it +1 critical. The second attack goes through and Kai defeats Naoki. Afterward, Kai praises Naoki's potential and accepts Naoki's request for a rematch another time.
Video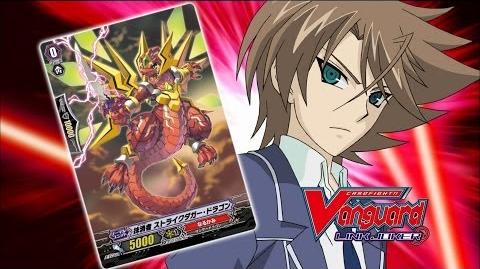 Community content is available under
CC-BY-SA
unless otherwise noted.