Episode 114: Miyaji Academy, Middle School Division is the 10th episode of Cardfight!! Vanguard: Season 3 in the Cardfight!! Vanguard Anime.
Plot
Shingo tells Naoki about a Cardfight Circle formed in the middle school division of Miyaji Academy. Shingo suggests that the two of them should pay a visit to the circle and build a relationship between it and the Cardfight Club. Naoki agrees, but he is unaware of Shingo's scheme; he plans to use this as his chance to impress the underclassmen and take them under his wing, thereby raising his status over Naoki. The two go to the Cardfight Circle's clubroom where they meet Emi and Mai, who are two of the three members of the circle. Naoki and Mai play a friendly match, in which Naoki shockingly loses to Mai's Bermuda Triangle deck. After the game, he asks her for advice in a somewhat intimidating fashion. But this earns him to be reprimanded by Misaki, who later enters with Aichi.
Not knowing that Aichi and Emi are siblings, Shingo gets offended when he hears Emi talking to Aichi in a casual manner, which causes her to get mad with Shingo. This leads to a cardfight pitting Emi, using a PR♥ISM-themed Bermuda Triangle deck, against Shingo, who is using a Narukami deck this time. Although Shingo deals 5 damage to her, Emi nonetheless uses the Break Ride of PR♥ISM-Image, Vert to empower her vanguard PR♥ISM-Promise, Labrador and then returns three of her rear-guards to her hand. She then activates the Limit Break of Labrador to call three rear-guards from her hand to the field, which gives Labrador more power and critical value. Along with getting a critical trigger, Emi thoroughly defeats Shingo. Just as he requests for Aichi to avenge him, Ultra Rare's Rekka appears, wearing a Miyaji Academy uniform. 
Video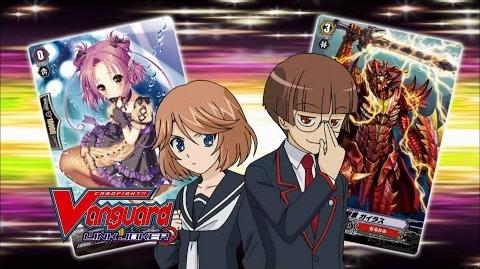 Community content is available under
CC-BY-SA
unless otherwise noted.