Legendary School Festival is the 15th episode of Cardfight!! Vanguard: Season 3 in the Cardfight!! Vanguard Anime.
Plot
The sudden appearance of Daigo surprises everyone and also attracts more students to watch the Cardfight Club's play unfold. Posing as the "real" villain of the play, Daigo is challenged by the hero Kourin to a cardfight for Misaki's freedom. Although Kourin applies a lot of pressure to him shortly into the fight, Daigo eventually gets a heal trigger and deals 5 damage to her, putting her in a tough situation. However, she is cheered on by Misaki and subsequently the audience to not give up. Kourin regains her composure and tries to end the game with the Limit Break of Leading Jewel Knight, Salome. Unfortunately, she does not do so. Daigo then uses White Dragon Knight, Pendragon's Limit Break to superior ride his new ace: Sanctuary Guard Dragon. He activates its Limit Break to overpower and defeat Kourin. Although the hero Kourin loses, Misaki, Aichi, Naoki Ishida, and Shingo Komoi all step up to challenge Daigo for their fallen friend. Daigo fakes being weakened by the club's strong bonds of friendship and then takes his leave. With that, the play ends with a happy ending and a round of applause from the audience. Aichi expresses his thanks for Daigo as a montage of Misaki's pictures (taken by Shin) during the play is shown.
Video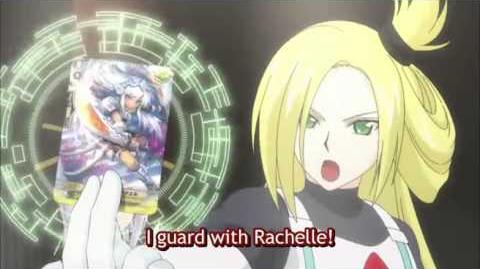 Community content is available under
CC-BY-SA
unless otherwise noted.