The Fall of Daiyusha is the 31st episode of the Cardfight!! Vanguard: Season 3 in the Cardfight!! Vanguard Anime.
Plot
Kenji arrives back in Japan via airplane. While waiting at the airport for his friends Yuri and Gai to pick him up, Kenji meets Kai and decides to have a cardfight with him, unaware about the existence of Reverse or of the current situation about it. Despite Kenji's best efforts, the Reversed Kai soundly defeats him.
Elsewhere, Team SIT Genius is hanging around the cardfight lounge in the same airport until Takuto 's secretary brings the group to a private room where they meet Kenji who is now Reversed. Kenji challenges Chris to a cardfight, which he accepts. The battle reaches a turning point when Kenji rides Dark Dimensional Robo, "Яeverse" Daiyusha, an evil version of the original Daiyusha. Kenji uses its Limit Break to weaken Chris' vanguard and deal major damage to him. Realizing that Kenji is acting like a completely different person, Chris resolves himself to finish the game with a break ride combo using School Hunter, Leo-pald. However, Kenji wards off his attacks and activates "Яeverse" Daiyusha's Limit Break again to defeat Chris and subsequently Reverse him.
Leaving Gai behind, Yuri finally arrives at the airport. Not knowing about Reverse, she is surprised to see all of the Reversed cardfighters approaching her including all of Team SIT Genius and Kenji. Meanwhile, Kai is seen traveling on an airplane...
Video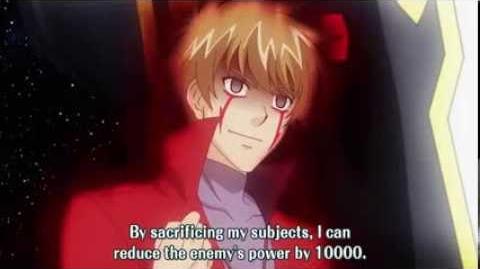 Community content is available under
CC-BY-SA
unless otherwise noted.