Dangerous Scent
(危険な匂い) is the 40th episode of
Cardfight!! Vanguard: Season 1
in the
Cardfight!! Vanguard Anime
.
Summary
Aichi trusts the voice of his cards, riding Solitary Knight Gancelot and calling King of Knights Alfred to the Rear Guard circle. His opponent uses an Oracle Think Tank deck. Though his first Counter Blast with Gancelot is thwarted by Chocolat, he tries again during the next turn, and scores an unexpected Critical trigger, winning the match. Misaki proceeds to win the second fight with a clever combination of Oracle Guardian Red-Eye and Goddess of the Full Moon Tsukuyomi. Team Q4 also advances, but Aichi seems exhausted from his previous fight and collapses, unable to continue. The next fights are conducted without his presence, and Kamui and Kai easily dominate their opponents, allowing Q4 to move once more to the very last round, where they hope to face Team Handsome. However, Gouki and the others are defeated by a mysterious team called Avengers, whose leader is revealed to be none other than Yahagi 'Crusher' Kyou, seeking revenge against Kai...
Video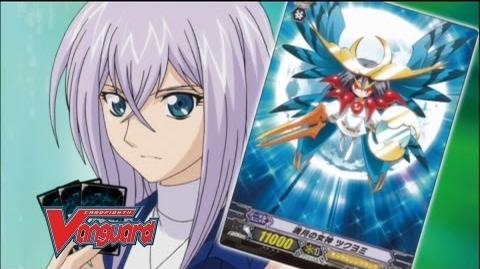 Gallery
Community content is available under
CC-BY-SA
unless otherwise noted.