---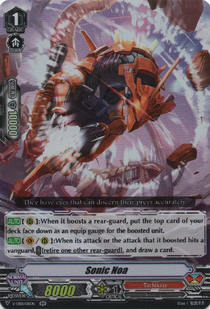 "Equip Gauge" (装ゲージ Sō Gēji) is a mechanic introduced in V Extra Booster 01: The Destructive Roar and V Extra Booster 04: The Answer of Truth.
Gauge Generator Clans
How it Works
By putting a card under a specified rear-guard face down from the appropriate zone, it becomes a gauge equipped to that unit. If you are putting the top card of your deck as an equipped gauge, you cannot look at the card before putting it.
The equipped gauge under the unit is considered associated with said unit, and can be used for costs or effects.
When a unit leaves the field (such as being retired), or it is locked, all of the equipped gauge associated to it are put into the drop zone.
Equipped gauge cards are placed face down, but the original owner of the card can check the contents of the equipped gauge; the other fighter may not.

Even if a fighter dominates a unit with equipped gauge, that fighter cannot look at the equipped gauge associated to the dominated unit.

There is no limit to the number of equipped gauge under a unit.
Community content is available under
CC-BY-SA
unless otherwise noted.