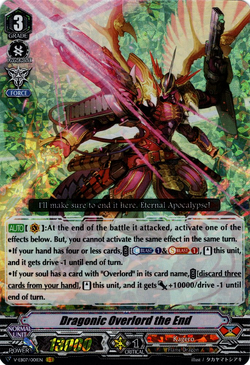 Flame Dragon (フレイムドラゴン Fureimu Doragon) is a race found in the Kagero and Narukami clans, as well as on a single card that represents the entire Dragon Empire nation. Flame dragons represent dragons with powers over flame. Flame Dragons are almost exclusively found in Kagero, where they serve as the main focus of the clan; they are common and can be found at all grades, especially in grades 3 and 4, and there are many cards that are dedicated support for Flame Dragons.
Narukami has only two flame dragons, Old Dragon Mage and Eradicator, Dragon Mage. Both cards represent the same character, and the V series iteration of Old Dragon Mage is a Thunder Dragon.
List of Flame Dragons
Grade 4
Trigger
Grade 0
Grade 1
Grade 2
Grade 3
Grade 4
Trigger
List of Support Cards
Grade 1
Grade 2
Grade 3
Grade 4
---
Community content is available under
CC-BY-SA
unless otherwise noted.