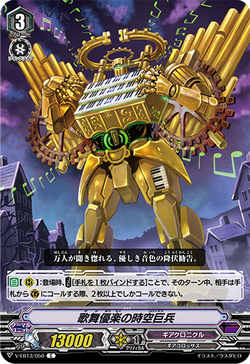 Gear Colossus (ギアコロッサス Gia Korossasu) is a race currently unique to the Gear Chronicle clan. Gear colossi are giant mecha, adorned with gears and composed of brass like other Gear Chronicle units. Gear Colossus units tend to skew to the higher grades than other races, with a plurality of Gear Colossus units being grade 3 or 4.
Many Gear Colossus units, most notably the Idea-drone series, support Zodiac Time Beast units and vice-versa. A deck built around Gear Colossi and Zodiac Time Beasts generally revolves around binding Zodiac Time Beast cards to use the ability of Deus Ex Machina, Demiurge.
List of Gear Colossi
Grade 0
Grade 1
Grade 2
Grade 3
Grade 4
List of Support Cards
Grade 0
Grade 1
Grade 2
Grade 3
Grade 4
---
Community content is available under
CC-BY-SA
unless otherwise noted.