Crossing Thoughts, Parallel Paths is the thirteenth episode of Cardfight!! Vanguard Extra Story -IF- and the 481th episode of the Cardfight!! Vanguard Anime.
Plot
Mask the Dark, whose real identity is revealed, realizes that the reason for the creation of the -if- world was a certain action by the card fairy Shuka. And the truth behind the story is gradually uncovered.
正体を明かしたマスク・ザ・ダークは、ifの世界が創られた原因に気付いていた。それはカードの妖精としてのシュカのとある行動だった。物語は真実に向かって動き出す。
Errors
When Shuka tries to give Blaster Blade to Aichi, the card's artwork was changed in the next scene after Aichi's transformation.
Trivia
Video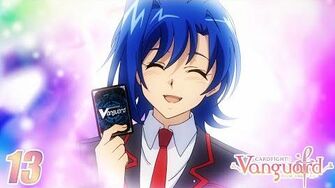 Community content is available under
CC-BY-SA
unless otherwise noted.