---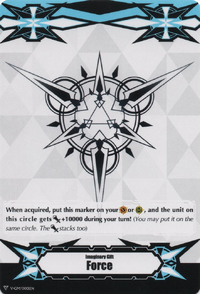 Force (フォース Fōsu) is a gift type balanced between offense and defense. It is represented by the color blue.
When you gain a Force gift, choose one of your (VC) or (RC), and put a Force gift marker on that circle (under any units on that circle). The two gift types associated with the Force icon are:
Force I: Units on that circle get [Power] +10000 during your turn. If multiple Force I gift markers are placed on a circle, the [Power]  boost from each of them is cumulative.
Force II: The original [Critical]  of units on that circle becomes 2. Multiple Force II gift markers may be placed on the same circle, but their effects are not cumulative.
A Force gift marker is not considered a circle, card or unit while on the field, so it cannot be chosen by abilities and effects cannot be applied to it. However, the circle that the gift marker is on can still be chosen by abilities and have effects applied to it.
Units in Force clans tend to have a higher base [Power] 

than comparable units in clans of the other two gift types; while other clans have grade 2 units with [Power] 

9000 and grade 3 units with [Power] 

12000, Force clans have grade 2 units with [Power] 

10000 and grade 3 units with [Power] 

13000. This higher base power increases the defenses of Force clans as well as their offense, as units of other clans need more [Power] 

to hit with an attack.
List of Force clans
List of cards with Imaginary Gift: Force
BanG Dream!
Bermuda Triangle
| Card Name | Clan | Type |
| --- | --- | --- |
| Animated Rooting, Marijan | Bermuda Triangle | |
| Aurora Star, Coral | Bermuda Triangle | |
| Captivating Originality, Gerlinde | Bermuda Triangle | |
| Chouchou Debut Stage, Tirua | Bermuda Triangle | |
| Clear Appeal, Seredy | Bermuda Triangle | |
| Colorful Pastorale, Canon | Bermuda Triangle | |
| Colorful Pastorale, Caro | Bermuda Triangle | |
| Colorful Pastorale, Fina | Bermuda Triangle | |
| Colorful Pastorale, Serena | Bermuda Triangle | |
| Colorful Pastorale, Sonata | Bermuda Triangle | |
| Consent Select, Beata | Bermuda Triangle | |
| Crystal Pop Star, Eve | Bermuda Triangle | |
| Diva of Atlantea, Iryna | Bermuda Triangle | |
| Full Full Appeal, Farlull | Bermuda Triangle | |
| Girlish Idol, Lyriquor | Bermuda Triangle | |
| Glaring Moon, Miera | Bermuda Triangle | |
| Graceful Prayer, Amie | Bermuda Triangle | |
| Happiness Heart, Lupina | Bermuda Triangle | |
| Heart Monopoly, Anezka | Bermuda Triangle | |
| Perfect Performance, Ange | Bermuda Triangle | |
| PR♥ISM-Image, Vert | Bermuda Triangle | |
| Refined Poiser, Urszula | Bermuda Triangle | |
| Rose Princess, Phalaina | Bermuda Triangle | |
| School Etoile, Olyvia | Bermuda Triangle | |
| Silver Singer, Cutire | Bermuda Triangle | |
| Star on Stage, Plon | Bermuda Triangle | |
| Sweetest Sister, Meer | Bermuda Triangle | |
| Perfectionist, Relenca | Bermuda Triangle | |
| Top Idol, Pacifica | Bermuda Triangle | |
| Top Idol, Riviere | Bermuda Triangle | |
| Unparalleled Ingenuity, Loura | Bermuda Triangle | |
| Velvet Voice, Raindear | Bermuda Triangle | |
Dimension Police
| Card Name | Clan | Type |
| --- | --- | --- |
| Black-clad Top-tier Deity, Bradblack | Dimension Police | |
| Great Cosmic Hero, Grandgallop | Dimension Police | |
| Metalborg, Sin Buster | Dimension Police | |
| Miracle Beauty | Dimension Police | |
| Roaring Beast, Audion | Dimension Police | |
| Super Dimensional Robo, Daiarm | Dimension Police | |
| Super Dimensional Robo, Daikaiser | Dimension Police | |
| Super Dimensional Robo, Dailiner | Dimension Police | |
| Super Dimensional Robo, Daiyusha | Dimension Police | |
| Super Dimensional Robo, Daizaurus | Dimension Police | |
| Ultimate Dimensional Robo, Great Daiyusha | Dimension Police | |
Gear Chronicle
Genesis
Kagero
Link Joker
| Card Name | Clan | Type |
| --- | --- | --- |
| Alter Ego Messiah | Link Joker | |
| Aromatalber Dragon | Link Joker | |
| Claw of Occlusion, Ghastly Nail | Link Joker | |
| Decaydal Automata | Link Joker | |
| Docking Deletor, Greion | Link Joker | |
| Harmonics Messiah | Link Joker | |
| Knight of Entropy | Link Joker | |
| Penetrate Deletor, Iggy | Link Joker | |
| Schwarzschild Dragon | Link Joker | |
| Screening Deletor, Ydoga | Link Joker | |
| Star-vader, Infinite Zero Dragon | Link Joker | |
| Star-vader, Nebula Lord Dragon | Link Joker | |
| Topological Dragon | Link Joker | |
| Wandering Starhulk Deity, Brandt Ringer | Link Joker | |
| Wandering Starhulk Ruler, Brandt | Link Joker | |
| Waving Deletor, Greidhol | Link Joker | |
| Whitemarder, Jact | Link Joker | |
Neo Nectar
Royal Paladin
| Card Name | Clan | Type |
| --- | --- | --- |
| Aerial Divine Knight, Altmile | Royal Paladin | |
| Aggregate Knight​, Firno | Royal Paladin | |
| Aggregate Knight​, Firno | Royal Paladin | |
| Anabasisheader Dragon | Royal Paladin | |
| Alfred Early | Royal Paladin | |
| Arc Saver Dragon | Royal Paladin | |
| Blue Sky Knight, Altmile | Royal Paladin | |
| Decorous Knight, Hengist | Royal Paladin | |
| Exculpate the Blaster | Royal Paladin | |
| King of Knights, Alfred | Royal Paladin | |
| Knight of Heavenly Spears, Agganips | Royal Paladin | |
| Knight of Longbow, Malcolm | Royal Paladin | |
| Majesty Lord Blaster | Royal Paladin | |
| Messianic Lord Blaster | Royal Paladin | |
| Monarch Sanctuary Alfred | Royal Paladin | |
| Powerful Sage, Bairon | Royal Paladin | |
| Solitary Knight, Gancelot | Royal Paladin | |
| Soul Saver Dragon | Royal Paladin | |
| Stardrive Dragon | Royal Paladin | |
| Stardrive Dragon | Royal Paladin | |
| Swordsman of the Explosive Flames, Palamedes | Royal Paladin | |
| Taintless Feather Dragon | Royal Paladin | |
| Unite Reet Dragon | Royal Paladin | |
Shadow Paladin
Spike Brothers