---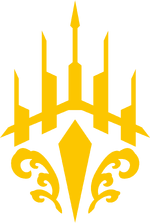 Keter Sanctuary (ケテルサンクチュアリ Keteru Sankuchuari) is one of Planet Cray's smallest nations, formerly known as the United Sanctuary.
Background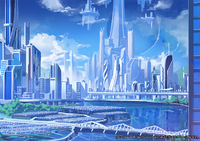 The Solitary Holy Nation
Once known as the "United Sanctuary", a sacred nation that valued justice and order. After the civil war and natural disasters, the land had become desolate, and so the descendants built the islands in the sky, "Ketergia" and created a new country. The nation was divided in two: The Heavenly Floating Islands where the ruling class live and the ground below where the people live whilst gazing above.
Border Restriction System and the Reduction of Territory
"Keter Sanctuary" had been founded after much turmoil. Although its territory had shrunk after the civil war and natural disasters, advanced technology was used to construct an island in the sky with the current public order in a stable state. With minimal interaction with the other nations, they forge their own path.
Playstyle
Keter Sanctuary inherited the versatility of the former nation, where each of its ride lines follows a very different playstyle:
Known/Notable Fighters
Tohya Ebata (Cloud Knights)

Yamamoto

(Sorceress)
Raika Koshiba (Youthberk)
Design
Races
Themes
Sets containing Keter Sanctuary cards
Booster Sets
Decks and Starter Sets
Extra Collections
List of Keter Sanctuary cards
Grade 0
| Card Name | Race | Type |
| --- | --- | --- |
| Aclemya | High Beast | Draw |
| Bard of Heavenly Song, Alpacc | Elf | Front |
| Blade Feather Dragon | Cosmo Dragon | Critical |
| Circuling Sorceress | Human | Heal |
| Daring Knight, Sawel | Human | Critical |
| Exalting Knight, Eafred | Human | Draw |
| Fullbau | High Beast | |
| Healer of Heavenly Staff, Arshes | Elf | Heal |
| Heartiness Tear Sorceress | Human | Heal |
| Invigorate Sage | Elf | Heal |
| Knight of Calm Harp, Curaaf | Elf | Heal |
| Knight of Heavenly Bows, Base | Angel | |
| Knight of Heavenly Hammer, Gurgant | Human | Critical |
| Knight of Heavenly Pierce, Gallus | Human | Draw |
| Knight of Heavenly Rend, Lif | Elf | Front |
| Knight of Integrity, Thegrea | Elf | |
| Light Dragon Deity of Honors, Amartinoa | Cosmo Dragon | Over |
| Merciless Buffalo | High Beast | Front |
| Operating Angel | Angel | Draw |
| Palpitation Angel | Angel | Heal |
| Protection Magic, Prorobi | Human | Draw |
| Recuperate Angel | Angel | Heal |
| Resolute Mage | Elf | Front |
| Tri Connect Sorceress | Human | |
| Variation Rigger Dragon | Abyss Dragon | Critical |
| Wingal Brave | High Beast | |
| White Crow Sorcerer, Taxus | Human | Front |
| White Fang Witch, Disma | Human | Critical |
| Youth Following in Footsteps, Youth | Human | |
Grade 1
| Card Name | Race | Type |
| --- | --- | --- |
| Additional Angel | Angel | |
| Advancement Magic, Melcoco | Human | |
| Aegismare Dragon | Cosmo Dragon | Sentinel |
| Armor Piercing Knight, Mugain | Human | |
| Asepsis Angel | Angel | |
| Bard of the Heavenly Instrument, Lutente | Human | |
| Beneath the Brilliant Light, Thegrea | Elf | |
| Black Sage, Charon | Giant | |
| Blaster Javelin | Human | |
| Breakdown Witch, Fectil | Human | |
| Determined to Break Away, Youth | Human | |
| Diaglass Sorceress | Human | |
| Diana Digon Sorceress | Human | |
| Diffuser Angel | Angel | |
| Discernment Magic, Pupurira | Human | |
| Divine Sister, Faciata | Elf | |
| Divine Sister, Tartine | Elf | |
| Energy Refill Angel | Angel | |
| Enucleate Angel | Angel | |
| Departure towards Daybreak | | Normal Order |
| Fide Gaon | High Beast | |
| Flag of Heavenly Save, Salyne | Elf | |
| Glintbreath Dragon | Cosmo Dragon | |
| Knight of Desolation, Fionnuala | Elf | |
| Knight of Friendship, Kay | Human | |
| Knight of Heavenly Release, Hulp | Angel | |
| Knight of Heavenly Omen, Grandir | Human | |
| Knight of Heavenly Piercing, Esalta | Human | |
| Knight of Heavenly Roar, Reedy | Human | |
| Knight of Heavenly Stride, Salire | Elf | |
| Knight of Heavenly Sword, Fort | Human | |
| Knight of Heavenly Wind, Vachel | Elf | |
| Leapmya | High Beast | |
| Livesaving Angel, Digriel | Angel | |
| Lifesaving Angel, Kurabiel | Angel | Sentinel |
| Little Sage, Marron | Giant | |
| Magic of Realization, Kikitsch | Human | |
| Magic of Revelation, Totris | Human | |
| Magic of Starry Skies, Marlna | Human | |
| Menacing Tiger | High Beast | |
| Orgulous Lion | High Beast | |
| Painkiller Angel | Angel | |
| Palladium Zeal Dragon | Cosmo Dragon | Sentinel |
| Patrol of Heavenly Eye, Touve | Angel | |
| Platinum Wolf | High Beast | |
| Prescription Angel | Angel | |
| Prohibited Sight Witch, Erunmes | Elf | |
| Recurring Magic, Lalarita | Human | |
| Removal Angel | Angel | |
| Shadow Bow Archer, Lisana | Human | |
| Stepmya | High Beast | |
| Tier Square Sorceress | Human | |
| Witch of Pandering, Brunner | Elf | |
Grade 2
| Card Name | Race | Type |
| --- | --- | --- |
| Ampoule Scatterer Angel | Angel | |
| Atrocious? Moth Girl, Maple | Insect | |
| Blaster Blade | Human | |
| Blaster Dark | Human | |
| Darkness Maiden, Macha | Human | |
| Divine Sister, Beignet | Elf | |
| Divine Sister, Langue de Chat | Elf | |
| Divine Sister, Pastelitos | Elf | |
| Divine Sister, Petit Four | Elf | |
| Drilling Angel | Angel | |
| Exquisite Knight, Olwein | Human | |
| Fortune Reading | | Normal Order |
| Four Side Glow Sorceress | Human | |
| Gold Gaon | High Beast | |
| Harsh Training, Thegrea | Elf | |
| Injection Angel | Angel | |
| Internalize Mage | Elf | |
| Knight of Ardent Light, Youth | Human | |
| Knight of Fearlessness, Rediquess | Human | |
| Knight of Fierce Break, Friede | Warbeast | |
| Knight of Fracture, Schneizal | Human | |
| Knight of Heavenly Bullet, Proklis | Human | |
| Knight of Heavenly Destruction, Kapald | Elf | |
| Knight of Heavenly Flash, Eclesia | Angel | |
| Knight of Heavenly Handling, Contenio | Elf | |
| Knight of Heavenly Spear, Rooks | Elf | |
| Knight of Inheritance, Emmeline | Human | |
| Knight of Loyalty, Bedivere | Human | |
| Knight of Old Animosity, Camloss | Human | |
| Knight of Piercing, Caedwalla | Human | |
| Knight of Protective Spear, Arthen | Human | |
| Knight of Partings, Lloygre | Human | |
| Knight of Severe Punishment, Geid | Human | |
| Knight of Sorrow, Grania | Human | |
| Knight of Spright, Freeda | Human | |
| Knight of Trident, Gerald | Human | |
| Magic of Appreciation, Nanaful | Human | |
| Magic of Objective, Kakarone | Human | |
| Milch Weiss Schutzer | Golem | |
| Octaray Sorceress | Elf | |
| Passion that Breaks the Heavens | | Normal Order |
| Pentagleam Sorceress | Human | |
| Quadracast Sorceress | Elf | |
| Skull Witch, Nemain | Elf | |
| Sterilize Angel | Angel | |
| Sturdiness Dragon | Cosmo Dragon | |
| Tetrafavor Sorceress | Human | |
| Unnatural Knight, Delbaeth | Human | |
| Witch of Moon Rabbits, Rubinia | Human | |
| Yearnful Magic, Esunono | Human | |
Grade 3
| Card Name | Race | Type |
| --- | --- | --- |
| Actual Analyst, Kokabiel | Angel | |
| Apex Ruler, Bastion | Human | |
| Big Snake Witch, Solaria | Human | |
| Blessing of the Hell Dragon | | Blitz Order |
| Bowstring of Heavenly Peace, Affion | Elf | |
| Bravery To Stand Against, Will to Pierce Through | | Normal Order |
| Bullseye Scope, Gaderel | Angel | |
| Dark Strain Dragon | Abyss Dragon | |
| Decisive Axe Dragon | Abyss Dragon | |
| Divine Sister, Lepisto | Elf | |
| Divine Sister, Saint-Honoré | Elf | |
| Downswing of Sword of Judgement | | Normal Order |
| Easerod Angel | Angel | |
| Form up, O Chosen Knights | | Normal Order |
| Gigantech Beater | Giant | |
| Glinting Knight, Etgya | Human | |
| Grand Heavenly Sword, Alden | Human | |
| Heaven Sent Great Magic, Milmomo | Human | |
| Heavenly Arrow of Sure-hit, Sparare | Angel | |
| Heavenly Blade of Sublime, Bethida | Angel | |
| Heavenly Blade of Vow, Flient | Human | |
| Heavenly Bow of Edifying Guidance, Refuerzos | Elf | |
| Heavenly Command Dragon, Exalute Dragon | Cosmo Dragon | |
| Heavenly Core of Wonder, Fortitudo | Human | |
| Heavenly Enclasp Dragon, Embrace Dragon | Cosmo Dragon | |
| Heavenly Incitation Above the Clouds, Blagar | Elf | |
| Heavenly Judgment of Composition, Heathcourt | Human | |
| Heavenly Pike of Solicitation, Cornvoc | Angel | |
| Heavenly Shield of Encompassment, Felicida | Human | |
| Heavenly Shock of Distinction, Lagrele | Human | |
| Heavenly Sickle of Pulsation, Repodron | Human | |
| Heavenly Staff of Kind Intention, Colthese | Human | |
| Hexaorb Sorceress | Human | |
| Hopeful Testode | | Blitz Order |
| Kindlight Dragon | Cosmo Dragon | |
| Knight of Blackness, Obscudeid | Human | |
| Knight of Broadaxe, Rafluke | Human | |
| Knight of Clearsightness, Arvirargus | Elf | |
| Knight of War Damage, Fosado | Elf | |
| Light that Shines upon the Truth | | Blitz Order |
| Majesty Lord Blaster | Human | |
| Noble Will | | Blitz Order |
| Octadevote Sorceress | Human | |
| One Who Blooms in the Dark, Thegrea | Elf | |
| One Who Walks the Path of Light, Thegrea | Elf | |
| Phantom Blaster Dragon | Abyss Dragon | |
| Phantom Blaster Overlord | Abyss Dragon | |
| Pride to Protect | | Set Order |
| Remission Sword, Phanuel | Angel | |
| Reverse Coil Knight, Nuadha | Human | |
| Roaring Heavenly Slash, Getouse | Human | |
| Sacred Crystal Dragon, Precede Arrow Dragon | Cosmo Dragon | |
| Soaring Dragon, Prideful Dragon | Cosmo Dragon | |
| Sword Saint Knight Dragon, Gram Grace | Cosmo Dragon | |
| The Hour of Holy Judgement Cometh | | Normal Order |
| Twinned Great Magic, Totohne | Human | |
| Vehement Witch, Ramana | Elf | |
| Virulence Dragon | Abyss Dragon | |
| Wish for Tomorrow | | Normal Order |
| Youthberk "Protofall Arms" | Human | |
| Youthberk "RevolForm: Gust" | Human | |
| Youthberk "RevolForm: Zest" | Human | |
| Youthberk "Skyfall Arms" | Human | |
Grade 4