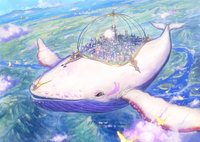 Lyrical Monasterio (リリカルモナステリオ Ririkaru Monasuterio) is a nation on Planet Cray, carried by a flying whale. More information is to be seen in August 2021.
Background
The 6th Nation, The City-State
Bermuda Triangle was the only clan from the former nation Magallanica not to join into Stoicheia, taking a different path instead. That different path lead to the creation of the sixth nation separate from the other five, Lyrical Monasterio. What kind of changes have the divas undergone in this new era?
The Residents Living Within This Nation
There are many mermaids living in "Lyrical Monasterio" including those from the former Bermuda Triangle. However, the nation is in fact open to all races of the world, and it appears that women of various races and backgrounds live here.
Playstyle
To be added.
Known/Notable Fighters
To be added.
Design
Races
Themes
Sets containing Lyrical Monasterio cards
Two products associated with it are scheduled to be released.
D Trial Deck 01
D Booster Set 03
Booster Sets
Decks and Starter Sets
List of Lyrical Monasterio cards
Grade 0
Grade 1
Grade 2
Grade 3
Community content is available under
CC-BY-SA
unless otherwise noted.