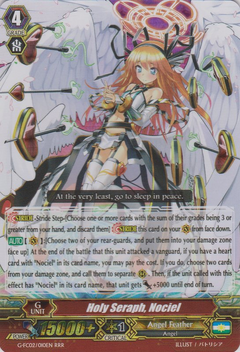 "Nociel" (ノキエル Nokieru) is a series of cards with "Nociel" in its card name exclusive to the Angel Feather clan. The first cards were introduced in Booster Set 6: Breaker of Limits, and they received their first support in Fighters Collection 2015 Winter.
Playstyle
Nociel's playstyle revolves around changing cards from hand to the damage zone. Since the abilities doesn't matter whether the cards are face up or face down, they doubles as countercharging the damage zone.
Meanwhile, Love Sniper, Nociel allows you to instantly put a Nociel that was sent to the damage zone to your hand, which can result in continuous drawing if you keep getting Nociel from the top of your deck with her skill. The other Nociels can also trigger Love Sniper's skill with their own skill (while countercharging at the same time, allowing you to pay for Love Sniper's cost), giving the deck high hand advantage.
Holy Seraph, Nociel allows you to exchange units from your field (instead the usual hand) and your damage zone, allowing for more attacks and refreshing your damage zone.
List of "Nociel" cards
Grade 0
Grade 1
Grade 2
Grade 3
Grade 4
List of Support Cards
Grade 3
Grade 4
---
Community content is available under
CC-BY-SA
unless otherwise noted.