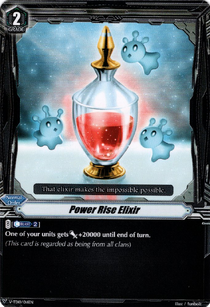 Order (オーダー Ōdā) is a card type. Orders represent a vanguard's commands, such as the use of strategies, magic, or items. During deck construction, a player may include any number of order cards in their main deck, as long as all other rules are followed. Unless otherwise specified, an order card belongs to all clans and nations.
How To Use
Each player may play one order card per turn. A player may only play an order card whose grade is equal to or less than their vanguard's grade. To play an order card, put it in the order area and follow its card text.
There are currently four types of order cards:
Normal Order: Played during the main phase of your turn, then put into the drop zone.
Set Order: Played during the main phase of your turn, and remains in the order zone for the rest of the game.
Blitz Order: Played during the guard step of your opponent's turn, then put into the drop zone.
Trigger Order: Played during the main phase of your turn, then put into the drop zone. In addition, it has a trigger icon that can be used for a trigger check, as well as for abilities that specify a trigger effect. It is not considered a trigger unit though.
Ticket Cards
Tickets (チケット Chiketto) such as Quick Shield are order pseudo-cards, in the same way that tokens are unit pseudo-cards. Like tokens, tickets are not put in the main deck but are instead generated during the game as a result of an ability.
Because they are pseudo-cards, ticket cards can only exist in the hand or order area. If a ticket card is put anywhere else (drop zone, damage zone, field, etc.), it immediately ceases to exist.
Notes
Order cards other than tickets can exist in all game zones.
Order cards are not units and cannot be chosen for a normal ride or normal call. If an order card would be superior ridden or called, it is put into the drop zone instead. This does not cause a rear guard to retire if the order card was superior called onto a circle that already contained a rear guard, as the order card was never considered to be on the field.
The grade of order cards in your hand do not count for G Assist. For example, if you have a grade 1 vanguard, no grade 2 unit cards in hand, and a grade 2 order card in hand, you may use G Assist; but you cannot use G Assist to add an order card to your hand. However, you may still remove order cards from your hand to pay the cost of G Assist.
Order cards are considered to be cards of their grade, so their grades can be referred to with abilities and they can be used (along with unit cards or by themselves) to pay the cost of Stride.
If an order card is put on the field as a locked card, it remains locked on the field but is put into the drop zone immediately after it is unlocked.
There is no limit to the number of set orders in your order zone.
First Vanguard Interaction
For all cards, see Category:FV Order.
Following the introduction of order cards into

series, all first vanguards from

Series were given the additional effect to grant a Quick Shield ticket to the player when rode upon while opponent's vanguard is grade 1 or greater. Cards of this category that were released before this point received an errata to now have this ability. This does not apply to the first vanguards from

series, as this ability is not specified by those cards, and thus it does not exist.
Additional Order Sub-Types
Certain order cards can have an additional type with their own rules.
List of Order Cards
Universal
Nation
| Card Name | Nation | Grade | Type |
| --- | --- | --- | --- |
| Ambush Killsmoke | Dragon Empire | 2 | Blitz Order |
| Best Harvest | Dragon Empire | 3 | Normal Order |
| Overcoming an Eternity | Brandt Gate | 3 | Set Order/World |
| Brothers' Soul | Dark States | 1 | Normal Order |
| Burn Bright, Pure Prayers | Dragon Empire | 2 | Blitz Order |
| Call to the Beasts | Stoicheia | 1 | Blitz Order |
| Causality Goes Crazy as I Will It | Brandt Gate | 2 | Normal Order |
| Clean Clean | Lyrical Monasterio | 2 | Normal Order |
| Crawl, you "Insects"! | Dark States | 3 | Normal Order |
| Cursed Souls Squirming in Agony | Stoicheia | 3 | Normal Order |
| Hidden in Darkness | Stoicheia | 2 | Blitz Order |
| Death-inviting Black-magic | Stoicheia | 3 | Normal Order |
| Downswing of Sword of Judgement | Keter Sanctuary | 3 | Normal Order |
| Eclipsed Moonlight | Brandt Gate | 2 | Set Order/World |
| Departure towards Daybreak | Keter Sanctuary | 1 | Normal Order |
| Everlasting Sapphire | Lyrical Monasterio | 0 | Normal Order/Gem |
| Explosive! Melting Heart! | Brandt Gate | 2 | Blitz Order |
| Face-Off and Overcome | Lyrical Monasterio | 0 | Blitz Order |
| Falling Hellhazard | Brandt Gate | 2 | Set Order/Meteorite |
| Fleeting Shine That Lights Life | Dragon Empire | 2 | Blitz Order/Fox Art |
| Flame Dragon Bombardment | Dragon Empire | 2 | Normal Order |
| Form up, O Chosen Knights | Keter Sanctuary | 3 | Normal Order |
| Fun Fun Marching! | Stoicheia | 3 | Normal Order |
| Galaxy Central Prison, Galactolus | Brandt Gate | 1 | Set Order/Prison |
| Geo Acceleration | Dark States | 1 | Blitz Order |
| Ghost Chase | Stoicheia | 2 | Blitz Order |
| Grief, Despair, and Rejection | Stoicheia | 3 | Normal Order |
| Happy Dreaming Festa! | Stoicheia | 3 | Normal Order |
| Harvesting Season | Stoicheia | 2 | Normal Order |
| Hellblast Full Dive | Dark States | 3 | Normal Order |
| Hollowing Moonlit Night | Brandt Gate | 2 | Set Order/World |
| Horns of Blessing | Dragon Empire | 3 | Normal Order |
| In Search of an Ideal Far Away | Stoicheia | 1 | Normal Order |
| In the Dark Night, The Resentment Freezes | Stoicheia | 1 | Normal Order |
| In the Darkness Nobody Knows | Brandt Gate | 3 | Set Order/World |
| Romantic Happiness | Lyrical Monasterio | 1 | Set Order/Song |
| Light that Shines upon the Truth | Keter Sanctuary | 3 | Blitz Order |
| Lightning Barrier, Emergency Deployment! | Brandt Gate | 1 | Blitz Order |
| Mobile Fortification of Annihilation, Freischutz Maxim | Brandt Gate | 3 | Set Order/Product |
| Moment of Capture! Aurora Battle Princess 24-hr Coverage! | Brandt Gate | 2 | Normal Order |
| Neatness Meteor Shower | Brandt Gate | 1 | Set Order/Meteorite |
| Nectar of Sensationalism | Stoicheia | 2 | Normal Order |
| Noble Will | Keter Sanctuary | 3 | Blitz Order |
| One Who Governs Chaos | Dark States | 1 | Normal Order |
| Overcoming the Unnatural Death | Stoicheia | 1 | Normal Order |
| Pandemonium Tactics | Dark States | 3 | Normal Order |
| Passion that Breaks the Heavens | Keter Sanctuary | 2 | Normal Order |
| Prayer of Resonating Wishes | Dragon Empire | 3 | Normal Order |
| Pride to Protect | Keter Sanctuary | 3 | Set Order |
| Refablishment Dock | Brandt Gate | 2 | Set Order |
| Regurgitation from the Underworld | Stoicheia | 3 | Normal Order |
| Resolute Pair of Eyes | Stoicheia | 3 | Set Order |
| Result of the Experiment Henceforth | Brandt Gate | 1 | Set Order/Research |
| Madder Red Runway | Lyrical Monasterio | 2 | Set Order/Song |
| Sealed Blaze Gun, Chandra | Dragon Empire | 3 | Normal Order/Arms |
| Sealed Blaze Shield, Swayanbuh | Dragon Empire | 3 | Normal Order/Arms |
| Sealed Blaze Spear, Aadhitya | Dragon Empire | 3 | Normal Order/Arms |
| Sealed Blaze Sword, Prithivih | Dragon Empire | 3 | Normal Order/Arms |
| Sealed Path | Stoicheia | 2 | Blitz Order |
| Shining Selfishness | Dark States | 2 | Blitz Order |
| Six-Flower Fractale | Lyrical Monasterio | 3 | Set Order/Song |
| Special "Violence" Yell | Dark States | 3 | Blitz Order |
| Spiritual Body Condensation | Stoicheia | 1 | Normal Order |
| Sunburst Evolution | Dragon Empire | 2 | Normal Order |
| Sunlight Punishment | Dragon Empire | 3 | Normal Order |
| Supernatural Extraction | Dark States | 3 | Normal Order |
| Sweetness is a Bad Dream | Stoicheia | 1 | Normal Order |
| Tartaros Beatscram | Dark States | 1 | Blitz Order |
| The Hour of Holy Judgement Cometh | Keter Sanctuary | 3 | Normal Order |
| Truehearted Ruby | Lyrical Monasterio | 0 | Normal Order/Gem |
| Twilight Sound of Waves | Lyrical Monasterio | 2 | Set Order/Song |
| Vibrant Symphony | Lyrical Monasterio | 2 | Blitz Order |
| Wild Intelligence | Stoicheia | 0 | Normal Order |
| Wish for Tomorrow | Keter Sanctuary | 3 | Normal Order |
| Worldwide Special Live Tour! | Lyrical Monasterio | 3 | Set Order |
Clan
Other
External Links