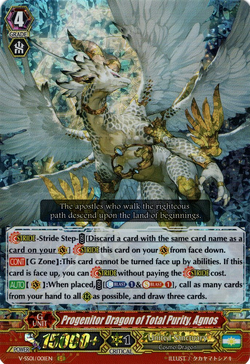 "Progenitor Dragons" (原初竜 Genshōryū) are a series of cards with "Progenitor Dragon" in their card names, and introduced in V Special Series 01: PREMIUM COLLECTION 2019. Each Progenitor Dragon is a G unit that represents one of the six nations, rather than a clan.
Characteristics
The cost for each of the Progenitor Dragons' Stride abilities differ from standard Stride, as they require the player to discard a card with the same name as a card on their vanguard circle. In addition, each of the Progenitor Dragons have abilities that prevent them from being turned face up while in the G zone, as well as allowing the player to Stride any G unit, including another Progenitor Dragon, without paying the cost while at least one is face up in the G zone.

List of "Progenitor Dragon" Cards
Trivia
The title naming theme is based off of common elements throughout fiction, similar to the Cray Elementals.
They are also known as the "Messiah Dragons" (or other similar monikers) throughout the community, and seen as the "good" counterparts to the Zeroth Dragons.

Like the Zeroth Dragons, the Progenitor Dragons have a crest somewhere on or around them. This crest closely resembles that of Harmonics Messiah (hence the nickname "Messiah Dragons"). They also share a Stride cost (requiring the cost to be paid by discarding a card with the same card name as one of your vanguards).

Coincidentally, the Japanese name starts with G, resembling G units, and along with Ryū, also resembles the rarity GR.
Community content is available under
CC-BY-SA
unless otherwise noted.