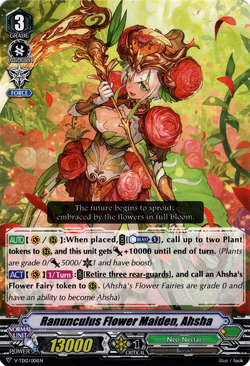 "Ranunculus" (ラナンキュラス Ranankyurasu), also known as "Ahsha" (アーシャ Āsha), is a set of Bioroid cards with "Ranunculus" in its card name exclusive to the Neo Nectar clan, introduced in G Trial Deck 3: Flower Maiden of Purity.
This archetype was originally named after princess Ahsha's flower core. Starting from V Trial Deck 12: Ahsha, the archetype changed to "Ahsha". This change, however, does not affect the support prior to it, as there are currently no cards whose name include "Ranunculus" while also not including "Ahsha".
Etymology
The name refers to Ranunculus, a genus of about 500 species of plants in the Ranunculaceae. Members of the genus include the buttercups, spearworts and water crowfoots.

List of "Ranunculus" Cards
Grade 3
Grade 4
List of Support Cards
Grade 0
Grade 1
Grade 2
Grade 4
Trivia
Although the archetype is named Ranunculus, Ahsha's design most likely represents the species Ranunculus asiaticus, also known as Persian buttercup, Persian crowfoot and Asian buttercup.