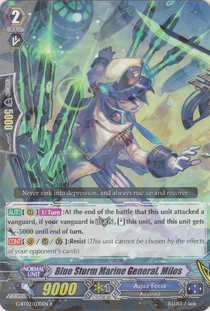 Resist (抵抗 Rejisuto) is a keyword introduced in G Booster Set 2: Soaring Ascent of Gale & Blossom.
How it Works
A unit with Resist is unable to be chosen by the effects of your opponent's cards that explicitly say "choose" in their texts. Even if the ability requires the unit's controller to be the player who chooses, that unit still cannot be chosen since the effect comes from one of your opponent's cards.
List of Cards
List of Support Cards
List of Anti-support Cards
Frequently Asked Question
Question: The ability to "choose multiple units, and this unit battles them in one attack", can I choose to attack a unit with "Resist"?
Answer: Yes, you may. This is because the ability is to change "the rules of choosing units to be attacked" during the battle phase.
Trivia
The kanji "抵抗" (Teikō) means "Resistance".