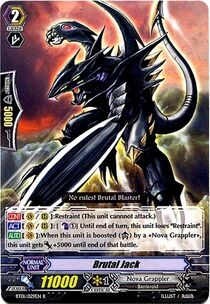 Restraint (拘束 Kōsoku) is a keyword introduced in Booster Set 1: Descent of the King of Knights.
How it Works
A unit with the "Restraint" ability cannot attack while it is on its specified circle. However, it may be removed temporarily by paying a cost, or fulfilling certain requirement.
This keyword is generally found on units with a power exceeding the normal level for their grade (for example, a grade 2 unit with "Restraint" may have 11000 power), to balance them out with other units of the same grade.
List of Cards
Can be Removed
Genie Soldat (When an opponent's rear-guard is put into the drop zone during your main phase)
Cannot be Removed Easily
Trivia
It was strictly the first keyword ability to be released.
In the anime, the action to remove it is known as "Restraint Release" (拘束解除 Kōsoku Kaijo).
Community content is available under
CC-BY-SA
unless otherwise noted.