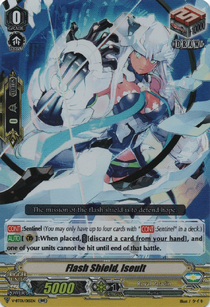 "Sentinel" (守護者 Senchineru) is a keyword introduced in Booster Set 9: Clash of the Knights & Dragons. It is indicated by its own icon in Cardfight!! Online (

) and Cardfight!! Vanguard ZERO (

) respectively.
Sentinel is featured exclusively on cards that also have a powerful defensive characteristic, such as Perfect Guard, Quintet Wall or [Shield] 

30000. These units also have a more elaborate box that is gold in color around their [Shield] 

value.
How it Works
You can only include up to four total cards with sentinel in your main deck, even if they have different names. This ability is always active, even during deck construction.
Units with the sentinel keyword are also referred to as "sentinels."
Regarding Cards without Sentinel
Perfect Guards that were printed prior to the release of Booster Set 9 did not have the keyword Sentinel printed on them. These units have all been given to have the "sentinel" keyword. This means you cannot have, for example, four each of "Archbird" and "Ancient Dragon, Paraswall" in the same deck, even though "Archbird" doesn't have the sentinel keyword printed on the card.
List of Cards
List of Support Cards
List of Anti-Support Cards
Trivia
The kanji "守護者" (Shugosha) can be translated as either "Guardian" or "Protector".