Stoicheia (ストイケイア Sutoikeia) is a nation on Planet Cray, consisting of the former nations of Zoo and Magallanica.
Background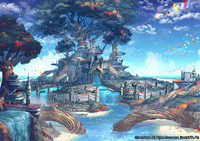 Surrounded by the Forests and Seas, Successors of the Sage
A nation born from the fusion of the land of abundant nature, "Zoo" and the land of aquatic creatures and the immortal army, "Magallanica" under the teachings of the Great Sage, Stoicheia. A land where the world's best minds gather within the verdant riches of nature represented by the sacred tree. Stoicheia's national power has been on a sharp rise of late, due to its abundance of resources and the unity of its people.
Teachings of the Sage
After a long period of rumination, the sage Stoicheia left behind teachings that would connect Planet Cray's future and hope. Even after their death, their will has been inherited by the nation's people.
Playstyle
Stoicheia is focused around the theme of "gathering strength from allies". The Nation emphasizes superior calling rear-guards quickly to build a full field then empowering those rear-guards in multiple forms to pressure the opponent with multiple high Power rear-guards. The Nation also has multiple means of calling rear-guards from the Drop Zone to recover lost allies and reuse their abilities.
Additionally Stoicheia focuses around the use of Order cards for a variety of purposes, enhanced through the use of the Alchemagic Keyword which allows the player to add the effect of an Order in the Drop Zone to another Order, essentially allowing the reuse of Orders in the Drop Zone.
Known/Notable Fighters
Design
Races
Themes
Sets containing Stoicheia cards
Booster Sets
Decks and Starter Sets
List of Stoicheia cards
Grade 0
Grade 1
Grade 2
Grade 3
Trivia
Community content is available under
CC-BY-SA
unless otherwise noted.