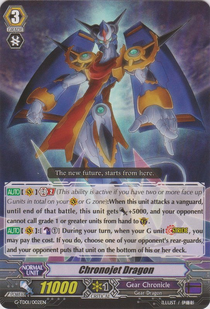 Stride Bonus (ストライドボーナス Sutoraido Bōnasu) is an official term introduced in G Trial Deck 1: Awakening of the Interdimensional Dragon and G Trial Deck 2: Divine Swordsman of the Shiny Star, which refers to grade 3 cards with an ability that only activates when a G unit Stride on top (paying any cost required).
Stride Bonus can be viewed as a Break Ride variant for G units, with the main difference being that it can be used each turn as long as the unit is face up on the vanguard circle.
Cards with Stride Bonus have at least one additional ability (usually Generation Break), so they can function as a regular grade 3 vanguard when the player can't Stride.
Starting from G Legend Deck 1: The Dark "Ren Suzugamori", there are certain Stride Bonus that only activate when a specified G unit or type of G unit Strides.
List of Stride Bonus Cards
Trivia