> The original series broke me and then taped me back together in an small way. I understand and accept Shinji and will try to learn from his mistakes. I love Kowaru, Rei, Asuka, and Misato all in that order. I also love and understand almost all of the other Nerv characters within the series. Not so much Ritsuko though. I understand her (somewhat?) but she is too cold and dumb. But at the same time I think I dislike her because I might be a small mirror of her in some aspects. Kaji is like a more beastial Kowaru to Misato and practically every grown woman's Shinji in some weird way. I love hime because he seems to be the only one (along with some others) who has his core values in check and isn't depressed or crazy. Or at least that is how he is presented within the series.  
> Then there are the movies, Death & Rebirth along with End of Evangelion. The first provided a good runback on the series to catch one up to speed before the second and smaller half of the movie, which showed Asuka's and the animation studio(s) greatest moments. The second movie did exactly what the original series did to me (stated in the first paragraph). It's funny how Shinji and Rei (Correction, I mean Asuka. Put Rei  by accident because Oedipus complex is too stonk) are actually more perfect for each other than with anyone else. It's perfectly sad...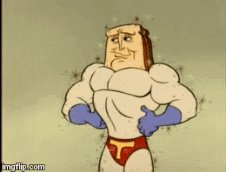 >
REBUILD. ................................From 1.0 to 2.0 to 3.0............................................. Where. The truck. Do I. Begin?
This at first I thought was gonna be a complete remake of the original story but I completely didn't know the real conext and or purpose of these movies. Peeps here and there in any comment section were going on and on about how this is a remake/ reboot/ redo or whatever and here I am thinking what the hell was that at the end of 1.0?  Surely this must be either an canon alt universe or even a straight up continuation! Either way I've got some MASSIVE THINGS TO LET OUT. 
-Who and why is Mari existing? I do love her but not as much as a character. If anything, she's more of an overly anime-girl-like doll! I love her but I question her existence!!!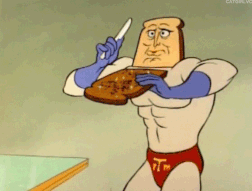 -ALL OF IT. EVERYTHING. IT'S ALL FAN SERVICE! AND I DON'T MEAN THE CENSORED KIND!! Not really all of it but there's an air of GREAT change to the characters, making them seem more to characters anime mainstreamers who shut off their brains to power fantasies all the time would LOVE. NO OFFENSE to said anime mainstreamers but there are peeps who literally PRAISE these movies -- WHICH IS FINE-- but while calling the original either " Too depressed! You people must LOVE depression to love the original" or "Too weak! The main character is such a cat's meow!" (And it's funnily sad because some peeps still call Rebuild Shinji a cat's meow EVEN THOUGH HE'S SLIGHTLY MORE ACTIVE THAN THE ORIGINAL. People only want to consume more in the end it seems. The movies and the development of the characters are all rushed a bit and that made the events of 2.0---while rather epic--NOT completely able to make me feel a sense of TRUE LOVE CONQUERS ALL CUZ I'M AN ANIME PROTAG! Because it was made to not work! SHINJI. WAS MADE. TO NOT. WORK. But what did they do? It's like anti main protag miracle powers at work! 
-EVERYONE IN THE LAST SCENES OF 2.0 ALL THE WAY TO THE END OF 3.0 ARE IDIOTS! There are things that could have been AVOIDED if a certain main character got a certain INFODUMP he deserved! But NOOOOOOOOOOOOOO, BLAME IT ALL ON HIS IDIOCY, NOT OURS. Mind you, Rebuild Shinji is an utter FOOL! BUT! He was FOOL of a TOOL. A tool not equal to OG Shinji, OG Shinji was a sad tool since his birth and it wasn't even his fault, almost none of it. But REBUILD SHINJI.... HE. IS. A. FOOL. And I HATE REBUILD MISATO and all you who seen the rebuilds know why! AND I HATE REBUILD RITSUKO'S HAIR!!!!!
-Kowaru deserved none of this. But it's fine, as he himself said...
-I wanna kick the butternutts outta Gendo! He's worse than Gut's dad! WORSE I SAY! WORSE-- Okay maybe just on the same level but damn it! 
EVEN SO! I still found the Rebuild movies VERY enjoyable because it gives a different take on the series ( even with how massive a rapid bleeding worm enfested womb 3.0 seems to be) and I ENJOYED it. Would I call it better than the original? HAHAHHAAHAHAHA!!! HELL NO! That things great for eye-candy with animation like that, brutha! But I won't call it an absolute trash field either. It's... fun and different in it's own right. BUT NOT BETTER! Trust me when I say If you watch the original you won't feel a speck of true sadness in the Rebuild movies. Maybe for one character but that's it! And not exactly because the movie isn't sad enough but because the original is by LEAPS AND BOUNDS sadder!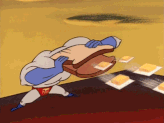 From what I gathered, trash fans pestered the director into making the rebuilds? If so, they all can just butter right off to their caves, the selfish, self-centered, scum-sucking, star-stranglers. 
I'm never drinking orange soda again. But I'm only lying to myself because I know my favourite orange soda is down there in the pantry...waiting for me. I'm so flubbed up...
Anyways, I loved the series! If you wanna talk about how I feel about specific stuff, go right ahead because I require conversations with others to continue living! Remember to keep calm and just let the 3rd impact happen! ^^