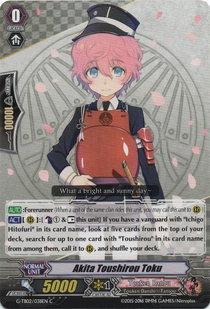 "Toushirou" (藤四郎) is a series of cards that include "Toushirou" in its card name exclusive to the Touken Ranbu clan. They were introduced and supported in G Title Booster 1: Touken Ranbu -ONLINE-, and later in G Title Booster 2: Touken Ranbu -ONLINE-.
Playstyle
They focus on gaining effects based on the number of "Toushirou" rear-guards, while "Ichigo Hitofuri" acts as the vanguard.
List of "Toushirou" Cards
Grade 0
Grade 1
Grade 2
List of Support Cards
Grade 1
Grade 3
Grade 4
Trivia
All of the "Toushirou" are personifications of swords created by the swordsmith Awataguchi Yoshimitsu (粟田口吉光), who also created Ichigo Hitofuri and Gokotai.