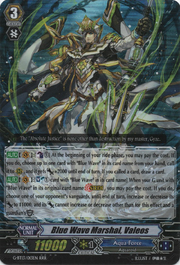 Hello, I'm Battlecardfighter (A.K.A BC, BCF, Battle, or Battlecard) and I'm from California in the United States.
Hey, I came across CfV while surfing youtube, found the anime, and really got into it. My favorite clan is the Aqua Force.
#AqF4ever
"Rise up, unending blue waves! Come forth, indomitable leader of the sea! Time to Ride, Blue Wave Marshal, Valeos!"
"From the ocean's depths, the one who shall bring all to an end shall surface! Time to Ride, Last Card, Revonn!"
"Reach even greater heights than before! Reach victory with your own hands! Time to Ride, Blue Storm Supreme Dragon, Glory Maelstrom!" 
"Rolling with the wave of time, striking down enemies in a matter of moments! Time to Ride, Rolling Ripple, Miltiadis!"
"Thundering throught the seas, and rising to the challenge! Time to Ride, Thundering Ripple, Genovious!"
"Rolling Ripple, Miltiadis! Together with Genovious, lead your troops to absolute victory! Legion!
"In order to reach the end of this battle, I shall weather this storm! Time to Ride, One Who Surpasses the Storm, Thavas!" 
Aqua Force Deck
Blue Wave

 

Normal Units

Grade 0

Grade 1

Grade 2

Grade 3
Blue Storm

 

Normal Units

Grade 0

Grade 1

Grade 2

Grade 3
Ripple

 

Normal Units

Grade 0

Grade 1

Grade 2

Grade 3
Thavas

 

Normal Units

Grade 0

Grade 1

Grade 2

Grade 3
V Aqua

 

Normal Units

Grade 0

Grade 1

Grade 2

Grade 3
V Waves

 

Normal Units

Grade 0

Grade 1

Grade 2

Grade 3
Granblue Deck
Nightrose

 

Normal Units

Grade 0

Grade 1

Grade 2

Grade 3
V Granblue

 

Normal Units

Grade 0

Grade 1

Grade 2

Grade 3
Bermuda Triangle
Coral

 

Normal Units

Grade 0

Grade 1

Grade 2

Grade 3
Raindear

 

Normal Units

Grade 0

Grade 1

Grade 2

Grade 3
V Riviere

 

Normal Units

Grade 0

Grade 1

Grade 2

Grade 3
Angel Feather
Rescue Angel

 

Normal Units

Grade 0

Grade 1

Grade 2

Grade 3
Nociel

 

Normal Units

Grade 0

Grade 1

Grade 2

Grade 3
V Angel Feather

 

Normal Units

Grade 0

Grade 1

Grade 2

Grade 3
Arch-aider

 

Normal Units

Grade 0

Grade 1

Grade 2

Grade 3
Shadow Paladin Deck
Luard

 

Normal Units

Grade 0

Grade 1

Grade 2

Grade 3
Raging Revengers

 

Normal Units

Grade 0

Grade 1

Grade 2

Grade 3
Claret Rebellion

 

Normal Units

Grade 0

Grade 1

Grade 2

Grade 3
Blaster Diablo

 

Normal Units

Grade 0

Grade 1

Grade 2

Grade 3
Blaster Revenger

 

Normal Units

Grade 0

Grade 1

Grade 2

Grade 3
Genesis Deck
Fenrir Revelation

 

Normal Units

Grade 0

Grade 1

Grade 2

Grade 3
Beautiful Revelation

 

Normal Units

Grade 0

Grade 1

Grade 2

Grade 3
Regalia

 

Normal Units

Grade 0

Grade 1

Grade 2

Grade 3
Astral Poet

 

Normal Units

Grade 0

Grade 1

Grade 2

Grade 3

Grade 5

Gold Paladin Deck
Unite Gurguit

 

Normal Units

Grade 0

Grade 1

Grade 2

Grade 3
Bluish Fang Liberators

 

Normal Units

Grade 0

Grade 1

Grade 2

Grade 3
V Lions

 

Normal Units

Grade 0

Grade 1

Grade 2

Grade 3
V Fury

 

Normal Units

Grade 0

Grade 1

Grade 2

Grade 3
Oracle Think Tank Deck
Oracle Susanoo

 

Normal Units

Grade 0

Grade 1

Grade 2

Grade 3
Magus

 

Normal Units

Grade 0

Grade 1

Grade 2

Grade 3
Battle Sisters

 

Normal Units

Grade 0

Grade 1

Grade 2

Grade 3
V Oracle

 

Normal Units

Grade 0

Grade 1

Grade 2

Grade 3
V Magus

 

Normal Units

Grade 0

Grade 1

Grade 2

Grade 3
Royal Paladin
Brave Altmile

 

Normal Units

Grade 0

Grade 1

Grade 2

Grade 3
V Blaster

 

Normal Units

Grade 0

Grade 1

Grade 2

Grade 3

Grade 4
Narukami
Vanquisher

 

Normal Units

Grade 0

Grade 1

Grade 2

Grade 3
Kaiser

 

Normal Units

Grade 0

Grade 1

Grade 2

Grade 3
Descendants of Eradicators

 

Normal Units

Grade 0

Grade 1

Grade 2

Grade 3
V Narukami

 

Normal Units

Grade 0

Grade 1

Grade 2

Grade 3
V Vanquisher

 

Normal Units

Grade 0

Grade 1

Grade 2

Grade 3
Murakumo Deck
Yasuie

 

Normal Units

Grade 0

Grade 1

Grade 2

Grade 3
Mandala Lord

 

Normal Units

Grade 0

Grade 1

Grade 2

Grade 3
ZANBAKU

 

Normal Units

Grade 0

Grade 1

Grade 2

Grade 3
V Shirayuki

 

Normal Units

Grade 0

Grade 1

Grade 2

Grade 3
Tachikaze Deck
Gaia

 

Normal Units

Grade 0

Grade 1

Grade 2

Grade 3
Rex

 

Normal Units

Grade 0

Grade 1

Grade 2

Grade 3
V Tachikaze

 

Normal Units

Grade 0

Grade 1

Grade 2

Grade 3
Kagero
Blaze Blademaster

 

Normal Units

Grade 0

Grade 1

Grade 2

Grade 3
Seal Dragon

 

Normal Units

Grade 0

Grade 1

Grade 2

Grade 3
Overlord

 

Normal Units

Grade 0

Grade 1

Grade 2

Grade 3
V Overlord

 

Normal Units

Grade 0

Grade 1

Grade 2

Grade 3
V Blademaster

 

Normal Units

Grade 0

Grade 1

Grade 2

Grade 3
​Nubatama
Dominate

 

Normal Units

Grade 0

Grade 1

Grade 2

Grade 3
Evil Magatsu

 

Normal Units

Grade 0

Grade 1

Grade 2

Grade 3
V Kujikiri

 

Normal Units

Grade 0

Grade 1

Grade 2

Grade 3
Dimension Police
Dimensional Robos

 

Normal Units

Grade 0

Grade 1

Grade 2

Grade 3
Cosmic Heroes Burst

 

Normal Units

Grade 0

Grade 1

Grade 2

Grade 3
Enigman

 

Normal Units

Grade 0

Grade 1

Grade 2

Grade 3
V Police

 

Normal Units

Grade 0

Grade 1

Grade 2

Grade 3
Nova Grappler Deck
Rush Victor

 

Normal Units

Grade 0

Grade 1

Grade 2

Grade 3
Blau

 

Normal Units

Grade 0

Grade 1

Grade 2

Grade 3
V Beast Deity

 

Normal Units

Grade 0

Grade 1

Grade 2

Grade 3
V Fist

 

Normal Units

Grade 0

Grade 1

Grade 2

Grade 3
Hero

 

Normal Units

Grade 0

Grade 1

Grade 2

Grade 3
Link Joker
Messiah

 

Normal Units

Grade 0

Grade 1

Grade 2

Grade 3
Chaos Vader

 

Normal Units

Grade 0

Grade 1

Grade 2

Grade 3
Deletors

 

Normal Units

Grade 0

Grade 1

Grade 2

Grade 3
Omega Final

 

Normal Units

Grade 0

Grade 1

Grade 2

Grade 3
Starhulk

 

Normal Units

Grade 0

Grade 1

Grade 2

Grade 3

Grade 4
V Messiah

 

Normal Units

Grade 0

Grade 1

Grade 2

Grade 3
Pale Moon Deck
Harri

 

Normal Units

Grade 0

Grade 1

Grade 2

Grade 3
V Moon

 

Normal Units

Grade 0

Grade 1

Grade 2

Grade 3
Dark Irregular
Scharhrot

 

Normal Units

Grade 0

Grade 1

Grade 2

Grade 3
Spike Brother
Nova Charge

 

Normal Units

Grade 0

Grade 1

Grade 2

Grade 3
Dudley

 

Normal Units

Grade 0

Grade 1

Grade 2

Grade 3
​Gear Chronicle
End of Ideas

 

Normal Units

Grade 0

Grade 1

Grade 2

Grade 3
Chronofang

 

Normal Units

Grade 0

Grade 1

Grade 2

Grade 3
V Chronofang

 

Normal Units

Grade 0

Grade 1

Grade 2

Grade 3

Grade 4
V Chronojet

 

Normal Units

Grade 0

Grade 1

Grade 2

Grade 3

Grade 4
Neo Nectar
Musketeers

 

Normal Units

Grade 0

Grade 1

Grade 2

Grade 3
Ranunculus Bloom

 

Normal Units

Grade 0

Grade 1

Grade 2

Grade 3
Arboros V

 

Normal Units

Grade 0

Grade 1

Grade 2

Grade 3
Great Nature
BIgbelly Success

 

Normal Units

Grade 0

Grade 1

Grade 2

Grade 3
Megacolony
Darkface

 

Normal Units

Grade 0

Grade 1

Grade 2

Grade 3
Machining

 

Normal Units

Grade 0

Grade 1

Grade 2

Grade 3
V Megacolony

 

Normal Units

Grade 0

Grade 1

Grade 2

Grade 3