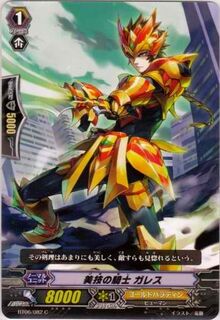 I started Cardfight Vanguard in the year 2012. My first trial deck was TD01: Blaster Blade. But my first complete deck was a Gold Paladin Ezel Build deck. Ever since, I have own a total of 15 deck.
List of deck:
1. Royal Paladin (Seeker, Thing Saver Dragon + Blue Sky Knight, Altmile)
2. Gold Paladin (Ezel)
3. Gold Paladin (Liberator - Gancelot)
4. Oracle Think Tank (From Full Moon to CEO Legion)
5. Genesis (Regalia Minerva)
6. Kagero (Perdition, Vortex Dragonewt)
7. Narukami (Brawler)
8. Murakamo (Shirayuki)
9. Gear Chronicles (Chrono Jet Dragon + Stride)
10. Aqua Force (Maelstrom)
11. Great Nature (Polaris + Breakride)
12. Great Nature (Big Berry + Leopald Reverse + Stride)
13. Neo Nectar (Sephirot + Ahsha + Stride)
14. Link Joker (Chaos Breaker + Legion)
15. Shadow Paladin (Revenger)
That is the list of deck that I own. Thanks.
My favorite pages
Add links to your favorite pages on the wiki here!
Favorite page #2
Favorite page #3
Community content is available under
CC-BY-SA
unless otherwise noted.