Hey, I'm Sol and I consider myself a bit of a rules expert for Vanguard.  I've been playing Vanguard essentially since Cardfight Capital was made on BYOND, which was a little after Set 2 in Japan, and have been playing in real life since the English cards came out. I only use English cards in real life though.
My current decks I have are: Murakumo (Standard), Kagero (Standard), Nubatama (Premium) and Narukami (Premium).  I also have ZTB, but I don't use that very often.  My main clan in Standard right now is Murakumo and my main clan in Premium is Nubatama.
I participated in the Cardfight Vanguard 2012 World Championships, placing in the top 16 in the Seattle Qualifier with an untested Dragonic Lawkeeper deck.  I then participated in the Cardfight Vanguard 2013 World Championship Seattle Regional Qualifier, placing in the top 16 again using a 6 G3 Vermillion/THE BLOOD deck.  I also participated in the 2014 Team Regionals in Vancouver, placing 14th with a team of tournament rookies using my Battlerex deck and my old Eradicator deck while I was using Spike Brothers.  In the 2014 World Championship Vancouver Qualifier, I placed in the top 40 with a Minerva deck. In the 2015 World Championship Vancouver Qualifier, I placed 20th (out of 138) with a Vanquisher/Crimson deck.
In 2016 during the World Championship Vancouver Qualifier I became Regional Champion using a DOTL/DOTG deck, and then finished 7th at Continentals.
In 2017 during the Spring Circuit Richmond Regional Qualifier, I was knocked out in the 7th round using a DOTL/DOTG/Spherical Lord deck. During the Autumn Circuit, I made it to Day 2, but finished in 19th place with a Dragonic Blademaster "Kouen" deck.
In 2018 during Team League, I teamed up with my son and the 2016 Runner Up, Joshua Setzer, to come in 4th Place.  I was piloting Dominate, my son was playing Susanoo and Setzer was playing Gaia.
In 2019 during Team League Standard in Richmond, I came in 2nd Place as Team Ctrl + Alt + Delete using Murakumo and made top 8 in Premium as Team Always Use Protection using Nubatama.  My personal record in Standard was 8 wins and 1 loss and my Premium record was 4 wins and 2 losses.
On April 8th 2013, I was made an admin for the wiki. 

I am now a YouTube Vanguard Content Creator, though I'm still highly inexperienced but people seem to like my videos anyways, so I'll be doing lots more.  There's a link to my channel in my profile above.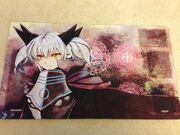 Outside of Vanguard, I am a semi-pro Voice Actor, though I've only done four paid sessions so far for the same project.  I'm also a webcomic writer.  The only one that is not on hiatus right now though is The Lone Swordsman which has been running for over 10 years now.
I have a wife and two teenaged step-kids who are on the wiki. We all play Vanguard, and go by the Team Name "Sol no Kazoku"

Mamoru is my spirit animal. 
Community content is available under
CC-BY-SA
unless otherwise noted.