"
Manifesting powerful results when the number of attacks is met! That is Wave!
"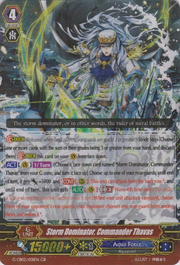 "Wave" (連波 Wēbu) is a keyword exclusive to the Aqua Force clan, and introduced in G Clan Booster 2: Commander of the Incessant Waves.
How it Works
A "Wave" ability is active during a battle if the stated number of battles have occurred during the same turn (including the current battle). For example:
A "Wave-3rd time or more" activates during the third battle of that turn or more.
A "Wave-4th time only" only activates during the fourth battle of that turn.
List of Cards
Grade 0
Grade 1
Grade 2
Grade 3
Grade 4
List of Support Cards
Grade 0
Grade 1
Grade 2
Grade 3
Grade 4
Trivia
The kanji "連波" can be translated "Incessant Waves".
In effect, it is the same requirement that Aqua Force already had since its introduction, but in form of keyword ability.
Community content is available under
CC-BY-SA
unless otherwise noted.